Chick-fil-A Is Cutting 6 Menu Items at Some Locations
I wouldn't consider myself the most equipped at handling change. The whole out with the old, in with the new schtick? Not really my thing -- at least, until now. Maybe. Chick-fil-A is officially cutting six items from its menu at locations within two test markets to make room for new options that sound, dare I say it, even better.
The controversial chicken chain announced plans for a modified test menu that'll eliminate these six items at some of its locations in Arizona and Charlotte, North Carolina: sausage, Sunflower Multigrain Bagels, Original Chick-n-Strips, Grilled Cool Wraps, Side Salads, and Decaf Coffee. But it's all for the best. Chick-fil-A is introducing Spicy Chick-n-Strips, a Grilled Spicy Deluxe Sandwich, and a Spicy Chick-n-Strips Biscuit in their place. 
"Why so much change?" the fast food chain said in a statement. "Our goal is to serve quality food as efficiently as possible. For us to continue providing the food and service you know and love, we are testing this modified menu to see if it improves your experience in our restaurants." 
This actually isn't the first we've seen of the spicy chicken trio. The company began an initial rollout in Phoenix last year. And while the replacements are part of a trial phase, get real. No one is going to miss that side salad enough to forego a spicy chicken biscuit, OK?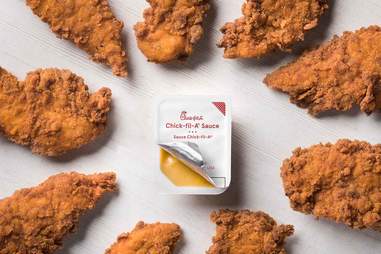 Courtesy of Chick-fil-A
In addition, Charlotte and Arizona-based locations are downsizing on quantity options as well. The Nuggets Kid's Meals will be offered only as a 5-count, catering trays will be medium only, Icedream Cones and coffee will be offered exclusively in small sizes, and milkshakes, iced coffees, and frosted beverages are limited to the 16oz clear cups.
h/t Delish
Sign up here for our daily Thrillist email and subscribe here for our YouTube channel to get your fix of the best in food/drink/fun.
Megan Schaltegger is a staff writer at Thrillist. Follow her @MegSchaltegger.