Chick-fil-A Is Unleashing All-New Mac & Cheese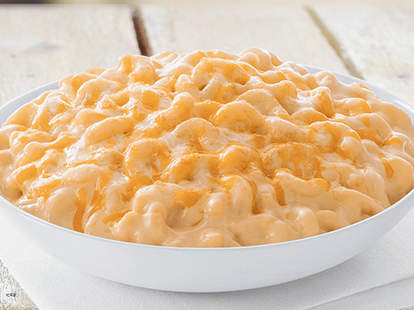 Fresh off its victory over Starbucks for the hearts of America's teens, Chick-fil-A is testing out something that may make it even more beloved, though hardly less controversial. If there's one surefire way to win someone's heart, it's serving them mac & cheese. And the chain is starting to serve mac & cheese. Therefore, your heart is probably about to be won.
Chick-fil-A is currently serving mac & cheese in select markets around the United States. And if it goes well, a (maybe even weirdly) kind Chick-fil-A worker may be ladling the comfort staple onto your tray in the near future. It's being tested in Phoenix, Arizona; Greensboro, North Carolina; San Antonio, Texas; Nashville, Tennessee; Baltimore, Maryland, and Houston, Texas. 
USA Today reports that the side item's price varies between markets, but it's been spotted at $2.79 for a medium and $4.39 for a large. It can also be ordered on the catering menu for in a small for $33 and a large for $64.50. Keep in mind that it's not necessary to be hosting an actual event to order a catering-sized tray of mac & cheese.
If you live in one of those cities, don't mess this up for the rest of us.
Sign up here for our daily Thrillist email and subscribe here for our YouTube channel to get your fix of the best in food/drink/fun.