A 2nd Major Canned Tuna Is Being Recalled Over 'Life-Threatening' Dangers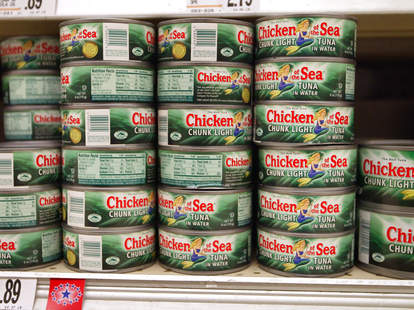 Tim Boyle/Best of News/Getty Images
Riding on the coattails of Bumble Bee tuna in the worst possible way, Chicken of the Sea just issued a major recall of its canned tuna citing "life-threatening" concerns. This is a trend everyone would like to see stop.
Tri-Union Seafoods issued a voluntary recall of 2,745 cases or 107,280 cans of Chicken of the Sea ​canned Chunk Light tuna, exactly the same kind of tuna affected by the Bumble Bee recall. The FDA public health announcement explains that some tuna may have been undercooked because of an equipment malfunction discovered during a routine inspection, and therefore may contain "spoilage organisms or pathogens" that could lead to "life-threatening illnesses."
It all sounds very similar to the Bumble Bee incident, and when asked if the two incidents were in fact related, Chicken of the Sea issued this statement:
"Both products in question were produced in the Chicken of the Sea plant in Lyons, Georgia as part of a co-packing agreement between the two companies. Agreements such as this are common among manufacturers. That said, at Chicken of the Sea we hold ourselves to the highest standards, and the health and safety of consumers is of utmost importance. To that end, we moved swiftly as soon as an issue was discovered to have products removed from store shelves. No illnesses have been reported, and the recall was issued as a precautionary measure."
These recalls are related in a way, as both products were produced at the same plant. However, as noted in the statement and in the FDA warning, there are no reported illnesses. Of course, to prevent any illnesses in the future, consumers should throw out recalled cans or return them to the store at which they were purchased for a full refund. A list of recalled cans can be found here and there's a 24-hour information line that can be reached at 1-866-600-268 for any additional questions. 
Anyone else craving tuna? Didn't think so.
Sign up here for our daily Thrillist email, and get your fix of the best in food/drink/fun.
Kara King is a News Writer at Thrillist and wants some tuna. Send news tips to news@thrillist.com and follow her at @karatillie.