Chili's Is Serving $5 Patron Margaritas All Month Long
My New Year's resolution is to drink more tequila because, in case you haven't heard, it might be good for you. The occasional marg (or if you're feeling extra frisky, shot) can allegedly promote bone health, aid weight loss, and improve digestion. If that's true, then it's basically medicine -- table dancing and ex-texting are merely side effects.
For those of you with me, Chili's is making it easy to stick with that resolution. In honor of 2020 and the chain's ongoing Margarita of the Month promo, you can snag $5 Patron margs through the end of January.
"2019 was full of tequila, tequila and more tequila. And you better believe we're keeping it going into 2020!" the casual restaurant chain teased on Instagram earlier this week.
And while, sure, Chili's mixed up its fair share of margs last year, the company isn't playing in the new year. The Cheers to Patron 'Rita just might be its best work yet, with Premium Patron Silver Tequila, triple sec, and fresh sour.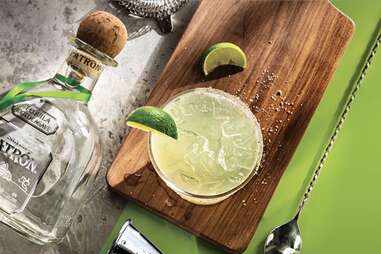 But here's the real kicker: the deals don't end there. Chili's also announced an update to its three-for-$10 meal, so now you can score a steak dinner (appetizer and regular drink included) without breaking the bank. And if you do the math here, tacking on that Patron marg will only run you $15 total. Not too bad.
h/tDelish
Sign up here for our daily Thrillist email and subscribe here for our YouTube channel to get your fix of the best in food/drink/fun.
Megan Schaltegger is a staff writer at Thrillist. Follow her @MegSchaltegger.