Chili's Is Killing Off Nearly Half of Its Menu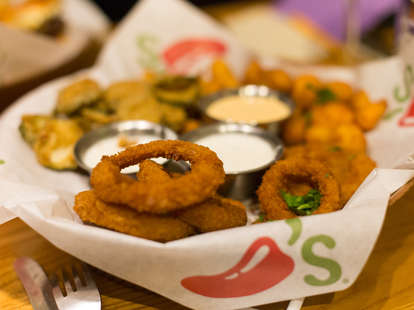 When it comes to the casual restaurants you used to eat at with your parents, Chili's has long been one of the few contenders that could give The Cheesecake Factory a run for its Monte Cristo Sandwich in terms of sheer menu size. But it looks like the days of being able to order Mango Chili Tilapia and BBQ Baby Back Ribs in one sitting may be numbered, now that Chili's has announced plans to cut its menu by a whopping 40% later this month.
Starting on September 18, the ubiquitous restaurant chain will go "back to its roots" by cutting its menu of about 125 different dishes down to a drastically simpler menu of 75 appetizers, entrees, desserts, and other items. The surprising move will allow the company to focus and improve on its signature platters of burgers, ribs, and fajitas, according to a press release. In fact, Chili's plans to add 30% more meat to its plates of ribs among other increased portion sizes and recipe changes, according to a report by Nation's Restaurant News.
"Guests have also told us they know that today no restaurant can be everything to everyone," Kelli Valade, president of Chili's, said in a statement. "So, by eliminating 40 percent of our menu, we've reinvested in meatier burgers, ribs and fajitas -- the items that we've always been known for. We apologize to any Guest who misses a departed dish, but with this bold move we commit to all Guests to do a better job of serving our famous food on every visit, in every restaurant."
So, the next time you find yourself at your local Chili's, don't expect to order the Mango Chili Tilapia. A heftier plater of ribs will probably make up for it, though.
Sign up here for our daily Thrillist email and subscribe here for our YouTube channel to get your fix of the best in food/drink/fun.

Tony Merevick is Senior News Editor at Thrillist and has fond memories of eating at Chili's. Send news tips to news@thrillist.com and follow him on Twitter @tonymerevick.