Chili's Is Unleashing a 5-Meat, 1,650-Calorie Burger With BBQ, Cheese, and Ranch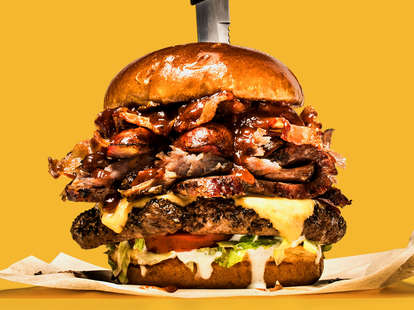 Courtesy of Chili's
Courtesy of Chili's
The burger wasn't meant to be subtle, and the wilder we make it the closer it gets to its gluttonous ideal. So Chili's might have revealed the true face of the hamburger with its gargantuan new menu item: The Boss.
This behemoth features five different types of meat: bacon, jalapeño-cheddar smoked sausage, pulled rib meat, smoked brisket, and finally a half-pound beef patty. Then there's the lettuce and tomato, which we're pretty sure makes this a healthy option. Plus there's Cheddar cheese, the buns of course, and both BBQ sauce and ranch. That stacks up to 1,650 calories.
Sure this seems better suited to those snakes that unhook their jaws, but you've never actually tried to unhook your jaw, so maybe give it a shot? But not just this second. The Boss isn't available nationwide yet. It was just debuted at Chili's test kitchen, plus a few locations around the country, and those the exact restaurants haven't been revealed.
If the test goes well though, you soon could be the proud owner of 1,650 calories.
Sign up here for our daily Thrillist email and subscribe here for our YouTube channel to get your fix of the best in food/drink/fun.