Chili's is Providing Shockingly Good Life Advice to People on Twitter Right Now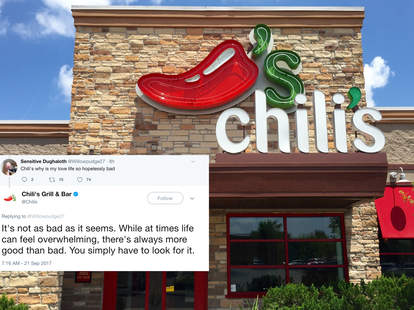 Whenever you post an existential question to Twitter, it isn't likely that anyone -- let alone a fast-casual restaurant -- will come to your aid bearing actual wisdom. On the contrary, some establishments will be sure to heap scorn and ridicule on you for publicly airing your problems. But not Chili's.
For some reason, people have been tweeting their dilemmas at the restaurant's verified account on Thursday, searching for meaning and clarity in this cruel, unforgiving world. Chili's has answered the call with a surprising degree of insight and emotional depth.
It's, well, really weird:
It's not as bad as it seems. While at times life can feel overwhelming, there's always more good than bad. You simply have to look for it.

— Chili's Grill & Bar (@Chilis) September 21, 2017
On your 7th dip of chips and salsa, you shall find your answer. 👌

— Chili's Grill & Bar (@Chilis) September 21, 2017
Well, you're single because you have an obsession with our Honey Mustard and it tastes better than any other because it's ours. 😘

— Chili's Grill & Bar (@Chilis) September 21, 2017
Perhaps most significantly, the purveyors of baby back ribs and festive, middle-American flavor have an intricate knowledge of the United States healthcare system. One man, who was tweeting in vain about his health insurance co-pay issues, presumably found relief when Chili's appeared out of the blue with this bombshell of knowledge: 
If your deductible hasn't been met, your copay is how much it costs to simply leave your doctor's office. They can charge way more later.

— Chili's Grill & Bar (@Chilis) September 21, 2017
Chili's mastery of the healthcare question confirmed its new reputation as a wellspring of good advice. Therefore, people are wondering how they drifted through life without knowing this.
Still, there are still some things that Chili's can't quite understand, such as the demise of cringeworthy HBO programs enjoyed by suburban dads:
If Wendy's is the evil contrarian of fast-food Twitter, then Chili's is its wise and angelic stepsister. Let's just hope for the sake of constructive discourse that the two never meet in a darkened alley. After all, people will inevitably need more advice, and Chili's will need to be there to save the day. Otherwise, the consequences might be dire. 
Sign up here for our daily Thrillist email and subscribe here for our YouTube channel to get your fix of the best in food/drink/fun.
 
Sam Blum is a News Staff Writer for Thrillist. He's also a martial arts and music nerd who appreciates a fine sandwich and cute dogs. Find his clips in The Guardian, Rolling Stone, The A.V. Club and Esquire. He's on Twitter @Blumnessmonster.