The world is filled with theme parks dedicated to things people obsess over. Some celebrate animals (Sea World), some are devoted to beloved characters (Walt Disney World), and there's even one that's literally all about sex (looking at you, South Korea's Love Land). Now, China's set to cut the ribbon on yet another themed park that will undoubtedly pique the interest of many. It's called Wine City, and as you might have gathered by the name, it's a sprawling compound that celebrates all things vino, and yes, that includes plenty of places to drink it. 
Recommended Video
Thrillist's Best (and the Rest): Traveling With a Partner vs. Traveling in a Big Group
Still a work in progress, the 1,000-acre $870 million attraction in the coastal city of Yantai is already open to the public. It was conceived by Changyu Pioneer Wine Company -- the country's oldest and largest winery -- to celebrate the country's burgeoning wine scene, and with help and financing from the esteemed Italian wine company Illva Saronno Holding Spa, the park is shaping up to be quite the sight. The grounds already feature one opulent chateau (there will be many more, including at least one with an artificial moat) and what's being touted as the world's largest wine production facility -- which will eventually have the potential to turn out a whopping 450,000 tons of wine and brandy per year. Inside these specific venues there will be halls dedicated to educating visitors about things like global wine history and culture. Other forthcoming attractions include a "wine skyscraper" that will house a "Wine Research Institute" as well as a number of of bars and tasting rooms. There will also be rows upon rows of grapevines, and what's been described as a "temple" to brandy.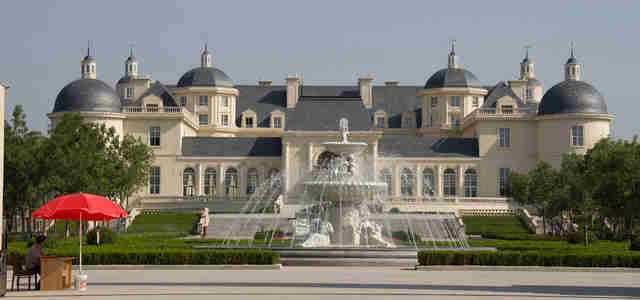 The latest details of the park were revealed in a recent article in Bloomberg, which also explores the Chinese wine scene, including the fact that the country is the second-largest wine grower by vineyard area (only France has it beat). Interestingly, because white is a color associated with mourning in Chinese culture, the Chinese wine scene is almost exclusively dominated by red varietals.
Although the park was expected to be completed by last year, it's a bit behind schedule. If you find yourself anywhere near Yantai (tickets from the US are roughly $2,000 at the moment), it might be worth scoping out the Wine City website and trying to book a tour. Scroll down for more photos.