Chinese Restaurants Shut Down for Seasoning Food with Opium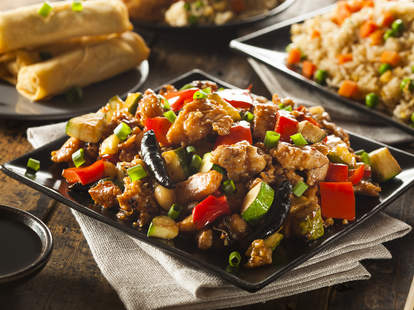 You might not know what's in Kung Pao chicken, but boy, that stuff's delicious. That's all you really care about. But if you find yourself getting the shakes between meals, sweating, and freebasing MSG, there's a reason that might be happening: restaurants lacing your food with opium.
According to a report by The China Daily, 35 restaurants around China stand accused of seasoning their food with opium poppies. Already five restaurants are being prosecuted, per a report by The Independent, while the rest remain under investigation. Restaurants allegedly add the poppies to enhance the flavor in dishes like meat soup, but of course, it's also believed they'll cause addiction, thus bringing customers back. No word on if the first taste is free.
The Guardian reports that ground poppy powder "contains low amounts of opiates such as morphine and codeine," though it's unclear if the substance has any actual effect on diners. While banned from use in restaurants, the powder retails for $27 per pound, and contains a higher opiate content than the poppy seeds commonly found in bagels, rolls, and Wil Fulton's diet.
Among the restaurants under fire: the popular hot pot chain, Huda, which has several outposts in the popular Beijing nightlife area known as Ghost Street. A manager at the restaurant confirmed to The Guardian the chain was under investigation, but revealed no further details.
This is far from the first Chinese food scandal, let alone the first time authorities have turned up restaurants adding poppy powder to food. Seven restaurants in Ningxia province were closed in 2012 for using opium poppies, while 215 were shut down in Guizhou province in 2004 for poppy use.
So the next time you're looking for a fix, just make sure you trust your supplier. Of Kung Pao chicken, of course.

Sign up here for our daily Thrillist email, and get your fix of the best in food/drink/fun.
Ryan Craggs is Thrillist's Senior News Editor. He personally favors Western Chinese food, and will basically do lines of cumin lamb, if offered. Follow him @ryanrcraggs.