Chipotle's All-New Meat Option Is About to Upgrade Your Burrito Game
Toss the new protein option in your bowl, burrito, quesadilla, whatever!
Courtesy of Chipotle
Courtesy of Chipotle
I've got my Chipotle toppings down to a science—hot salsa, cheese, roasted veggies, the works—but I've continued to cycle between protein choices. There was my sofritas phase, a stint with chorizo, and even a real barbacoa infatuation there for a second. But now, the ubiquitous burrito slinger is unleashing a real game-changer of a new protein option: Smoked Brisket.
The new meat offering is responsibly-raised beef that's smoked, charred on the grill, and boasts the flavors of fire-roasted jalapeños and chipotle chili peppers. It's then finished with a brisket sauce made from smoky chili peppers. Chipotle's culinary team has been working on the new menu item for the last two years, according to a spokesperson.
"This isn't your standard brisket experience," Chief Marketing Officer Chris Brandt said in a press release. "We've created a differentiated Smoked Brisket recipe that is authentic to our menu and pairs flawlessly with our real ingredients."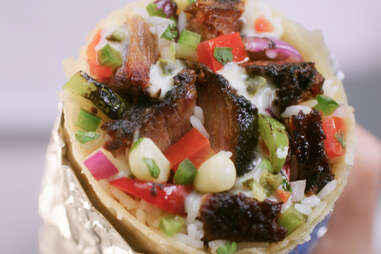 This marks Chipotle's third major menu rollout on a national scale just this year and follows a previous test run in Cincinnati, Ohio and Sacramento, California. Beginning Tuesday and Wednesday, rewards members will get access to an exclusive first taste via the Chipotle app and Chipotle.com. On September 23, the Smoked Brisket will make its nationwide debut in restaurants.
To celebrate the launch, Chipotle is waiving delivery fees on orders of $10 or more between September 27 and October 3.
Megan Schaltegger is a staff writer at Thrillist.