All That Free Food Hasn't Solved Chipotle's Biggest Problem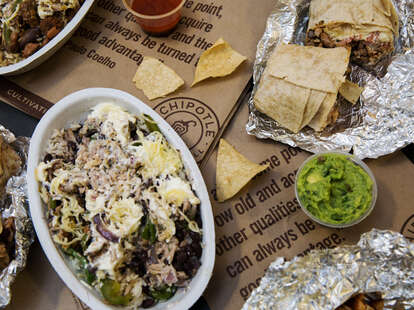 Late last year, Chipotle saw its reputation tarnished after an E. Coli outbreak got hordes of its most loyal customers sick. Faced with a crisis, the company launched Chiptopia -- which sounds like a Sci-Fi thriller about burritos -- to amend the broken bond.
The program offers customers a pretty sweet deal: the chance to claim four free burritos if you purchase a total of 12 over three months. But it hasn't really repaired the burrito peddler's image, or curried enough favor to stave off impending financial worries.
Business Insider reports that nearly 3.1 million people have registered for the program since it launched July 1, and that 85,000 are on course to claim their four burritos free of charge. On one hand, this means 85,000 people have bought four burritos over the last three months. On the other, it means that Chipotle is about to give away a lot of free food -- and probably at a rate that poses some financial risk. This is all bolstered, of course, by the $70 million the company gave away in free coupons from February to May.
Another issue BI brings to light is the company's brand perception. After all, it's hard to reclaim customer trust after causing a bonafide public health scare. According to YouGov BrandIndex data, Chipotle brand perception has actually caved since the program began. What was once a company rating of 9.4 on a scale of -100 to 100, is now 6.8 as of September 20.
Still, Chipotle is plugging along, having launched another awareness initiative on Wednesday, aimed at establishing "Chipotle as an industry leader in food safety," according to Chipotle PR Director Chris Arnold.
That move is likely to be coupled with another rewards program in the future, BI reports. Arnold claims that should help put the company back on the right financial track.
"Since the investigation ended about seven months ago, we have recovered about 40% of the sales we lost from the low point in January" Arnold said, adding that "none of this happens overnight."