Chipotle Is Launching All-New, Hand-Sliced Carne Asada for Your Burritos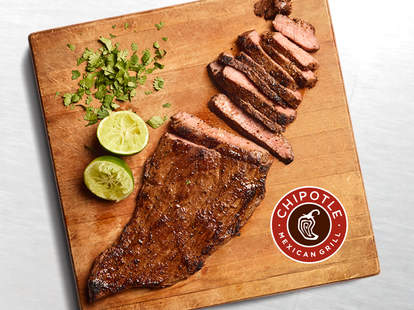 Attention all red meat fanatics: Chipotle has unveiled its newest protein on Tuesday: hand-sliced carne asada. The meat is the first new protein offering from Chipotle since Chorizo returned to the menu in 2018 and joins the chain's existing steak option. So, yes, choosing what you want in your burrito just got a little tougher.
The extra tender strips of steak are marinated and grilled in-house, before they're sliced and finished with lime juice and fresh cilantro. You can order the meaty new option starting September 19.
Nevielle Panthaky, Chipotle's vice president of culinary and menu development, emphasized the importance of simple, real ingredients when dreaming up new menu items.
"Food integrity is part of the brand's DNA," he said at a press event in NYC on Monday. "Wholesome products [are] so critical and near and dear to my heart."
In fact, the sliced strips of carne asada are so simple -- and made with wholesome ingredients -- that the carne asada is officially approved for the Whole30 diet and compliant with paleo lifestyles. Expect to find the flavors of cumin, coriander, garlic, salt, and a touch of clove and cinnamon mingling throughout the beef.
The sliced steak has been in development for over a year and piloted in May of 2019 in Fresno, California and Cincinnati, Ohio. Though prices vary depending on location, the nationwide average for the juicy carne asada clocks in at $8.50.
If you're a burrito-on-the-go type or just looking to hunker down with something meatier in a bowl, sliced carne asada might just be your new go-to. That being said, the latest menu item is only available for a little while, so if you're big on beef, well, now you have new lunch plans.
Sign up here for our daily Thrillist email and subscribe here for our YouTube channel to get your fix of the best in food/drink/fun.
Kat Thompson is a staff writer at Thrillist. Follow her on Twitter @katthompsonn.