We Tasted Chipotle's New Cauliflower Rice to See if It's Any Good
The new menu option is currently testing at locations in the Denver area and across Wisconsin.
Molly Martin/Thrillist
Molly Martin/Thrillist
It's not often that Chipotle adds something new to its menu. And when it does, it's not always a hit on the first try (ahem, anyone remember that first queso attempt?). But now, in a moment where everyone seems to have reached quarantine bread-baking fatigue, the burrito chain is giving us a new way to opt for something a bit healthier. After hinting in February that more plant-based food options were coming soon, Chipotle recently started serving all-new Cilantro Lime Cauliflower Rice as part of a trial run at select locations in Denver and Wisconsin.
But does this low-carb, veggie-based substitute for grains have what it takes to become a permanent menu fixture? I set off to the nearest Chipotle in the Mile High City to find out.
Interestingly, I wasn't able to preorder the new option -- there was no cauliflower rice on the online to-go menu to be found. But in person, there it was. Right next to its traditional rice counterpart. The added veg comes with a cost. It's an extra $2 to substitute it on your favorites. If you're also an "add guac" kind of person, your chicken bowl can quickly climb to over $11 before tax. But a couple bucks isn't a big sacrifice in the name of health… right? Especially if you're not sacrificing when it comes to flavor.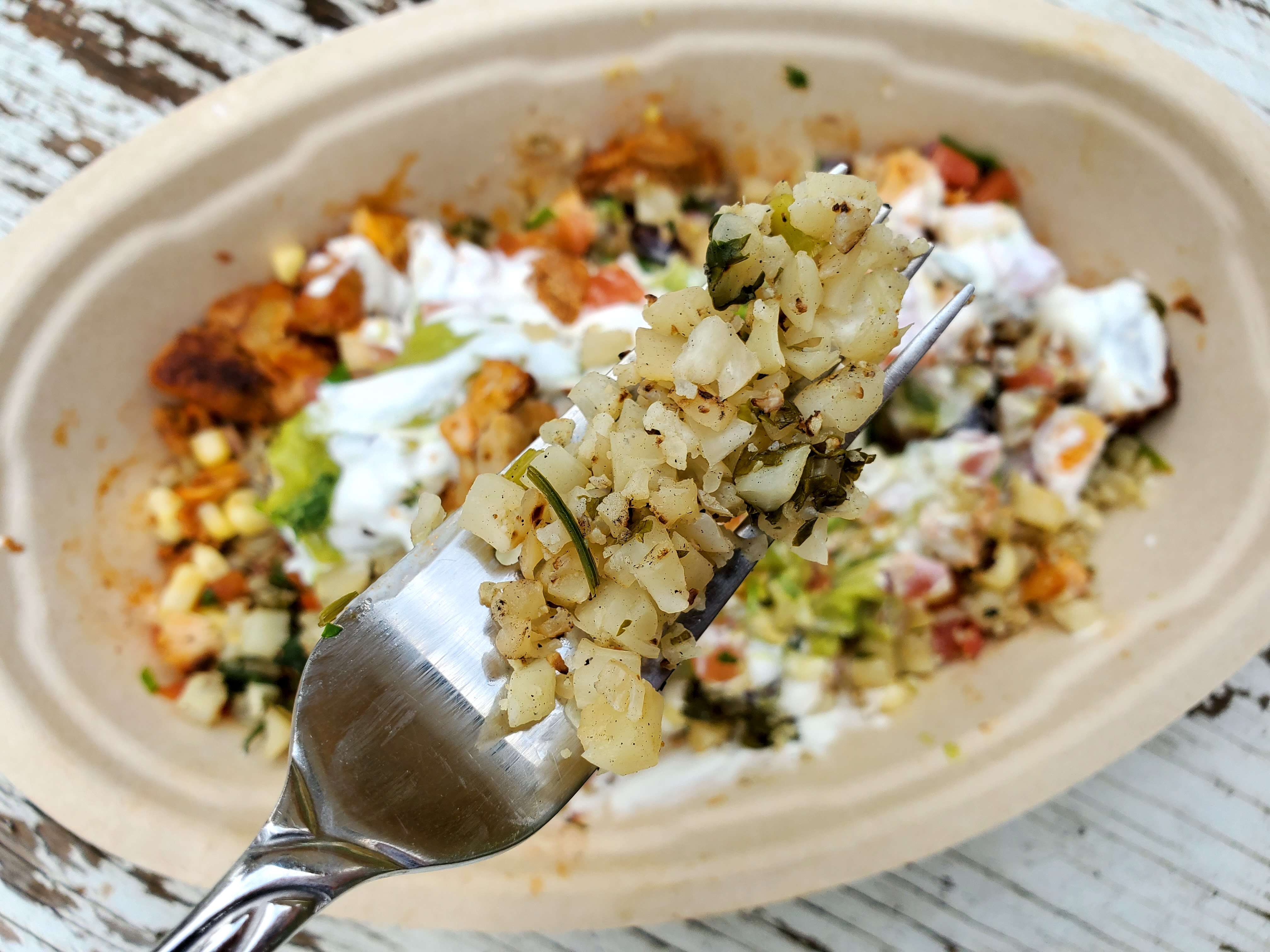 Does cauliflower rice deliver that signature cilantro lime kick?
Good news: it totally does. In fact, it's even more limey than the standard white or brown rice options, probably because the rice is absorbing that flavor while it clings to the cauliflower, giving it plenty of brightness. The cauliflower is also roasted, which brings out some of the cruciferous veggie's natural sweetness and a touch of nuttiness. Its seasoning was spot-on, and if you're a cauli-fan in general, it actually makes for a pretty satisfying side all on its own.
But let's be real, you're not going to Chipotle for cauliflower alone. So how'd it hold up as a rice substitute in a burrito bowl? I got it as the base layer of a loaded chicken bowl. The cut isn't super "grainy," it's more of a very small dice, with visible tiny squares of cauliflower throughout. So instead of turning into a veggie mush, it actually added some nice hearty texture. And, after promptly finishing off the entire bowl, I felt 100% satisfied and 100% not bogged down like I sometimes do after a Chipotle meal loaded with real rice.
Final thoughts
Cilantro Lime Cauliflower Rice isn't exactly a revolutionary culinary advancement. But it does exactly what it's supposed to do. If you hate cauliflower, stay away. Because it does, indeed, taste like a well made, small diced, roasted cauliflower with limey zip and cilantro throughout. With any luck, the new option will advance out of its test run and find a home on the nationwide menu because we all need some simple ways to feel a little better these days, even if it does cost an extra $2.
Sign up here for our daily Thrillist email and subscribe here for our YouTube channel to get your fix of the best in food/drink/fun.
Molly Martin is a Denver-based freelance writer who will totally pay extra for guac. Follow her @mollydbu on Instagram and Twitter for more updates on food, fun, and life in the Mile High.