Chipotle Just Closed a Restaurant Where Mice Fell from the Ceiling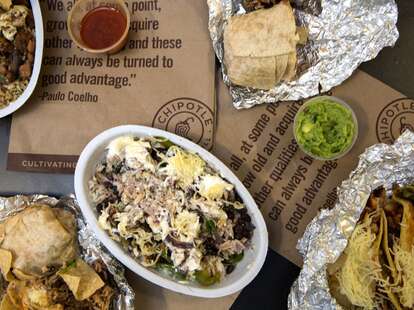 In the same week that Chipotle shuttered a DC-area restaurant due to a high-profile food-borne illness incident last month, the company faced even more bad news when a customer's video of rodents scurrying inside a Dallas location quickly went viral just days later. Now, the burrito purveyor has temporarily closed the latter restaurant to evaluate the building for potential construction issues.
A Chipotle spokesperson said the company is carrying out a thorough assessment of the 100-year-old building that houses the restaurant in Dallas' historic West End District, according to a report by Bloomberg. This follows Chipotle's initial response to the reports of mice at the location, which pointed to a structural gap in the building as the source of the little critters. The chain will presumably look for additional issues or gaps during the closure that could allow the rodents to unexpectedly drop in for lunch.
"We regret any inconvenience and will reopen only when we are certain the building meets all Chipotle standards for operation," spokeswoman Quinn Kelsey said in a statement to the business publication. Meanwhile, employees at the shuttered restaurant have the option to relocate to nearby outposts.
Chipotle's decision to close the Dallas restaurant marks the second time in a month that the company has temporarily shuttered a location in response to a problem. A Chipotle in Sterling, Virginia was closed for a "complete sanitation" after several customers became ill after eating there. Local health officials later announced that at least 135 people were sickened due to what it determined was a norovirus outbreak. On a recent earnings call, Chipotle execs blamed the outbreak on an employee who worked while sick.
Widely shared video of the mice from last month shows at least two uninvited lunch guests skittering on the floor near a window at the restaurant. Customers who witnessed the incident claim the mice fell from the ceiling, according to local news reports. The rodents, coupled with the food-borne illness incident only days earlier, led to fresh concerns about food safety at the chain's restaurants as it continues to recover from the devastating 2015 E. coli outbreaksand sent the company's stock on another major decline.
All of this comes as Chipotle makes big moves to lure customers to its restaurants, such as an expanded test launch of its first-ever queso dip, experimental new menu items at its new test kitchen in NYC, and a new music-based marketing campaign with RZA that includes a deal for free burritos. Chipotle said there's a chance it could introduce queso nationwide as soon as this September, and more new foods -- like dessert -- could hit the menu after that.
Sign up here for our daily Thrillist email and subscribe here for our YouTube channel to get your fix of the best in food/drink/fun.
Tony Merevick is Senior News Editor at Thrillist and could really go for a burrito bowl today. Send news tips to news@thrillist.com and follow him on Twitter @tonymerevick.