Chipotle's Getting Sued for $2 Billion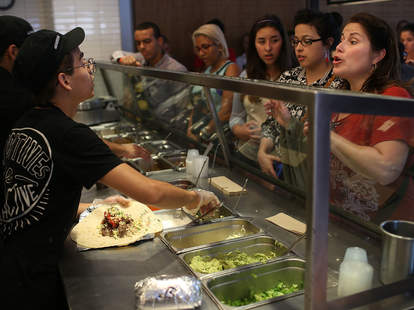 Chipotle spent much of 2016 doling out deals for free food, instituting new food safety procedures, and shaking up its leadership in its ongoing effort to sell more burritos. A customer in California, however, is not pleased with a particular part of the company's marketing strategy in recent years: allegedly using a photo it took of her without her permission.
As explained in a report by 7News Denver, a Chipotle customer recently filed a lawsuit against the company, its CEO Steve Ells, and a photographer named Steve Adams, alleging the burrito giant used a photo of her for promotional purposes without her consent. Leah Caldwell claims that she refused to sign a release form when Adams photographed her at a Denver Chipotle back in 2006, but later discovered the company had used her image in promotional materials she spotted at two Chipotle restaurants in Florida and California in 2014 and 2015, respectively. The complaint also alleges the company edited the image to show alcoholic beverages on her table, according to the report. 
Now, Caldwell is demanding Chipotle pay her more than $2.2 billion -- $2,237,633,000, to be exact, which the lawsuit claims is the profit the fast-casual food purveyor made by using her photo from 2006 to 2015. That number will likely increase once the company's numbers from 2016 are available, according to the report. In case you're wondering, a Chipotle spokesperson told 7NEWS Denver the company does not comment on pending legal issues and wouldn't say anything about the lawsuit.
For context, $2,237,633,000 is enough cash to buy 243 million steak burritos at the NYC price of $9.19 (before tax). Basically, even settling for just half would be worth it. 
Sign up here for our daily Thrillist email, and get your fix of the best in food/drink/fun.
Tony Merevick is Cities News Editor at Thrillist and would be pretty pissed if his image appeared in promotional materials without his consent, too. Send news tips to news@thrillist.com and follow him on Twitter @tonymerevick.