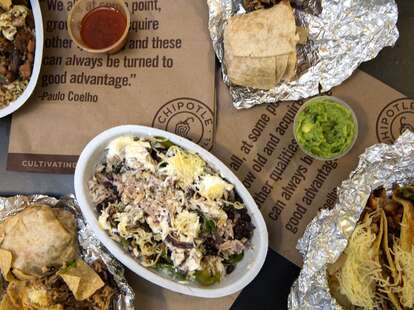 Despite announcing its first-ever quarterly loss as a public company on Tuesday, Chipotle said recent deals for free burritos and other promotions are helping to lure customers back to its restaurants after a series of food-borne illness incidents. And now, Chipotle is taking its comeback efforts a step further by introducing a customer loyalty program and new menu items as soon as this summer.
Chipotle execs revealed the plans during the company's quarterly earnings call, saying a rewards program for loyal customers, all-new menu items, and additional food deals will help boost same-store sales, which were down a staggering 29.7% in the first three months of 2016. Not only is this great news if you love eating the chain's burritos and scoring free food, it's also a dramatic shift for a place that's never offered a loyalty program and rarely changes its simple menu of burritos, bowls, tacos, and salads.
"[W]e are exploring a limited-time frequency incentive designed to reward our most loyal customers for eating frequently at Chipotle this coming summer," Mark Crumpacker, Chipotle's Chief Creative and Development Officer, said on the call. "Additionally, we are considering adding menu items that will appeal to our loyal or lapsed customers."

Although Crumpacker declined to provide details on how the loyalty program might work and what rewards you can expect to earn, he did reveal one of what are perhaps several new menu items the company is preparing for a national launch: chorizo. That's right, the chorizo option Chipotle teased last summer in a small test market could soon land at your local Chipotle. Hell yes.

"The item we are considering introducing first is chorizo, which is something we've done before," he said. "We did it in Kansas City last year and we were prepared to expand that to a second market right as we came into this food-borne illness situation and we tabled it so that we could put all of our focus on correcting the problem. But we did find that was very, very popular with our loyal customers. In fact, for a lot of people who tried it, it quickly became their most favorite protein."
Chipotle co-CEO Steve Ells described the new chorizo as a perfect and "really delicious" addition to Chipotle's signature assembly line. "It's a chicken and pork spicy sausage, we cook this on our plancha, it has lots of little crispy bit so it has nice spicy and really good texture, and as Mark said, very very popular with the customers that had it in a couple of our test markets," he said. "... Chorizo fits into [Chipotle's system] really well in that we have space for it on the main line and it doesn't detract from throughput."
In addition to the potential rewards program and new menu items, the execs signaled a transition from sending out a zillion free burrito coupons (which don't result in sales) to more buy-one-get-one promotions (which do result in sales) -- presumably deals like the one coming up for Teacher Appreciation Day. After all, the company saw revenue decrease by 23.4% to $834.5 million, with a net loss of $26.4 million, according to the earnings report.
When reached via email, Chipotle Spokesman Chris Arnold wouldn't provide additional details on the plans for a rewards program or what other new items you can expect to see on the menu, but said to stay tuned. Of course, we're still hoping Chipotle will take our advice and launch what seems to be a no-brainer: Nacho Bowls.
Sign up here for our daily Thrillist email, and get your fix of the best in food/drink/fun.
Tony Merevick is Cities News Editor at Thrillist and wonders how much Chipotle you'll have to eat to ultimately eat more Chipotle. Send news tips to news@thrillist.com and follow him on Twitter @tonymerevick.