Chipotle's Founder Says Half Its Restaurants Suck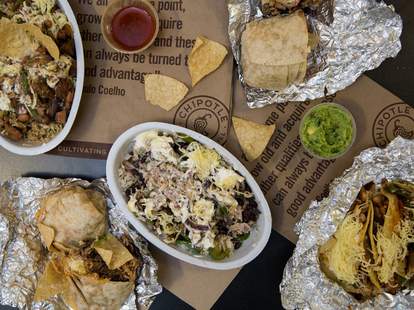 Although Chipotle has spent much of the year instituting dozens of new food safety measures and attempting to lure customers back to its restaurants with numerousdealsfor free food, the burrito chain is still struggling to recover from last year's devastating food-borne illness crisis. On Monday, Chipotle Founder and co-CEO Steve Ells revealed a major problem holding it back: nearly half the chain's restaurants basically suck when it comes to customer service.
During a presentation at the Barclays Eat, Sleep, Play – It's Not All Discretionary Conference in NYC, Ells said he's "particularly not satisfied" with the quality of customer service at many of Chipotle's restaurants. Ells, who founded Chipotle in 1993, said the company has to turn its attention back to the customer experience after primarily focusing on the new food safety procedures if it wants to make a comeback. Chipotle's sales have declined for four quarters in a row.
"When we invite new or lapsed customers into restaurants that are less than perfect, we believe those customers will return less frequently and that we will needlessly slow our recovery by allowing that to happen," Ells said in his remarks, which you can listen to on Barclays' website. "Therefore, we are focused relentlessly on creating an excellent dining experience in every one of our restaurants." 
"I think we took our eye off the ball on the customer service side."
In fact, Ells said that while half of Chipotle's restaurants earn an A or a B on the company's internal grading scale, "about half" of the restaurants fall into the C, D, F category -- the majority being Cs, especially locations in Northeast markets like New York and Boston.
Although a C is, of course, a passing grade, these locations often fall short in areas like providing clean dining rooms, maintaining neat and organized drink stations, and perhaps most importantly, fast service. He claims the lapse is largely due to restaurant managers and crew members becoming overwhelmed by new procedures.
"Typically, there are about eight significant operational changes or upgrades throughout a year -- historically, that's about what we do -- and that's a lot for our teams," Ells said. "Post crisis, we threw 80 changes at them, so it was very very difficult, and turnover went up. We had higher turnover, the jobs became more difficult for our managers and our crew members, and I think we took our eye off the ball on the customer service side."
The burrito executive said the company is addressing the lapse in customer service by strengthening its management teams in some regions and allowing restaurant staff to focus on training.
"We have addressed that specifically, though, with new management teams. But I think there's a great opportunity in these C restaurants to have an experience that's going to bring people back more frequently and help with this recovery," he said. "We see it working and this is something that just recently -- this is a recent turning point. So I expect that this could happen very quickly, and that's the good news."
Sign up here for our daily Thrillist email, and get your fix of the best in food/drink/fun.
Tony Merevick is Cities News Editor at Thrillist and has had nothing but great experiences at Chipotle and kind of wants a steak burrito right now. Send news tips to news@thrillist.com and follow him on Twitter @tonymerevick.