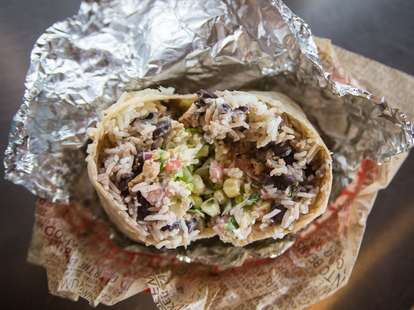 Dan Gentile/Thrillist
Dan Gentile/Thrillist
From crazy-long, grueling shifts to potentially dealing with you and your family through your worst moments, nurses don't have the easiest jobs in the world. That's likely why Chipotle wants to treat the often unsung heroes and heroines of the medical world to some free food with an upcoming buy-one-get-one deal.
Here's the deal: When you buy a menu item on Wednesday, June 8th, Chipotle will give you a free burrito, burrito bowl, salad, or order of tacos, but only if you're a nurse. As Chipotle explains in the fine print, all types of nurses -- "RN, NP, CRNA, CNS, CNM, LVN, CNA, and local equivalents or analogues" -- can take advantage of the deal. Nurses can show things like their hospital or medical office nurse ID or even a nursing license to claim the free food. We're assuming that showing up in scrubs probably won't work.
Additionally, the promotion is limited to one freebie per person from 3pm to close, so plan your lunch or dinner or never-ending overnight shift snack accordingly.
Sign up here for our daily Thrillist email, and get your fix of the best in food/drink/fun.
Tony Merevick is Cities News Editor at Thrillist and is still waiting for Journalist Appreciation Day deals, or just some form of appreciation in general. Kidding, of course. Send news tips to news@thrillist.com and follow him on Twitter @tonymerevick.