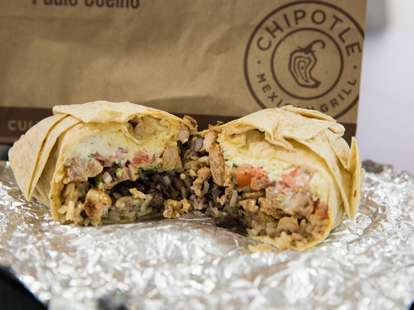 Teacher Appreciation Day isn't just that day when your mom sent you to school with a lame-o mug or apple-shaped paperweight or Starbucks gift card for your favorite teacher. It's actually one of the few days when educators get the respect and recognition they deserve. Oh, and a yellow busload of deals at stores and restaurants, including a new promotion from Chipotle involving free burritos.
Here's the deal: If you're a teacher, faculty, or some other type of school staff member and can prove it with a school ID, Chipotle will give you a free burrito, burrito bowl, salad, or order of tacos when you buy another menu item, according to the company's website. The buy-one-get-one promotion is good from 3pm to close on May 3rd, or Teacher Appreciation Day, at Chipotle locations nationwide (but not online orders) with a limit of one freebie per eligible educator. It's the least they can do for the people who are, as Chipotle put it in a press release, "constantly working to cultivate a better world in the classroom."
This isn't the first year Chipotle has offered a Teacher Appreciation Day deal, but it comes at a critical time when Chipotle continues its push to lure customers back to its stores after catastrophic food safety issues. With that said, don't feel left out just yet if you're not a teacher -- there are likely more free burritos and other deals on the way.
Sign up here for our daily Thrillist email, and get your fix of the best in food/drink/fun.
Tony Merevick is Cities News Editor at Thrillist and loves a good free food deal. Send news tips to news@thrillist.com and follow him on Twitter @tonymerevick.