Chipotle Is Giving You Free Delivery for the Rest of 2019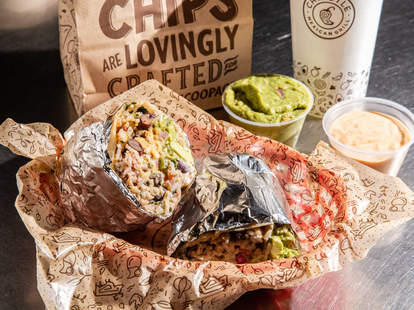 As snow, freezing rain, and generally cold and crappy weather grip out measly bones in the final days of the year, it's nice to know that some restaurants have our backs. In-N-Out Burger offers hot chocolate, Taco Bell is bringing back Reaper Ranch, and now, Chipotle doesn't even want us to venture into the biting chill to get our burritos. No, instead, Chipotle is offering free delivery for pretty much the rest of 2019. 
The deal for free delivery begins on December 20 and runs through January 6, with an additional one-day promotion on January 13. To access the free delivery, you merely have to spend $10 on your Chipotle order, which as I'm sure you know by now, is easily achievable with a burrito and some chips and guac.
"With our second season of the Chipotle Free Delivery Bowl, we're continuing to help fans win off the field during bowl season with Chipotle delivery," Chris Brandt, chief marketing officer of Chipotle, said in a statement. "We're excited to be the only bowl you can actually eat, which means fans can score whether their team is bowl-bound or not."
In addition to the deal for free delivery, Chipotle is also offering customers a chance to win free delivery on anything -- like free delivery on something that isn't even related to Chipotle in the slightest. It can be the delivery fee on your new couch, your Christmas shopping, or a Chipotle order from month's past that you had to pay for yourself, according to a spokesperson for the chain.
To win the opportunity to have any delivery fee taken care of by Chipotle, all you have to do is reply to this Chipotle tweet with a photo of your receipt and Venmo handle while using #ChipotleFreeDelivery. Only a select few will have Chipotle intercept their fees, but we're all getting free Chipotle delivery for the rest of 2019 anyway so I guess we can all count our lucky stars.
Sign up here for our daily Thrillist email and subscribe here for our YouTube channel to get your fix of the best in food/drink/fun.
Kat Thompson is a staff writer at Thrillist. Follow her on Twitter @katthompsonn.