Chipotle Is Giving Out Free Queso Blanco With Free Delivery Today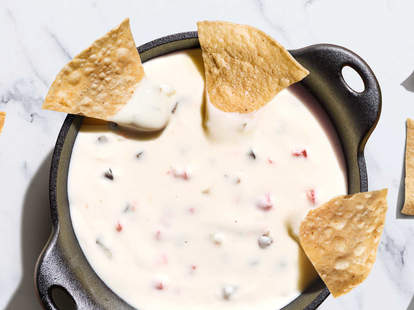 Restaurant and fast food chains across the US have rolled out free delivery as if they know I can't whip up a burrito quite like my trusty pals at Chipotle. And now that the country has extended its social distancing guidelines through April 30, the Mexican-style chain is doing the same with that free delivery promo.
Through the end of the month, Chipotle is slashing fees on orders of $10 or more via the Chipotle app or website. If that weren't reason enough to order up a few bowls and maybe a side of chips and guac if you're feeling rich, there's also this: the burrito slinger is giving away free queso blanco with any entrée order on Thursday, April 2 -- aka National Burrito Day.
If you're concern over the coronavirus outbreak is at all blocking your desire for delivery burritos, let me ease your worry. Chipotle is putting in extra work to ensure customer safety, including the addition of tamper evident packaging seals on all orders, an in-app delivery tracker so you can get real-time updates on your food, and the option to include special instructions in the case you want to avoid unnecessary contact and have your delivery person drop the food at your door.
Don't worry, you can still score rewards for all that extra guac you'll surely need while social distancing. When you go to order online, just sign up for Chipotle Rewards and start earning 10 points for every dollar spent. Once you reach 1,250, which shouldn't be that hard if your habit is anything like mine, you'll get a free entrée. 
Sign up here for our daily Thrillist email and subscribe here for our YouTube channel to get your fix of the best in food/drink/fun.
Megan Schaltegger is a staff writer at Thrillist.