Chipotle's New Halloween Deal Will Get You $3 Burritos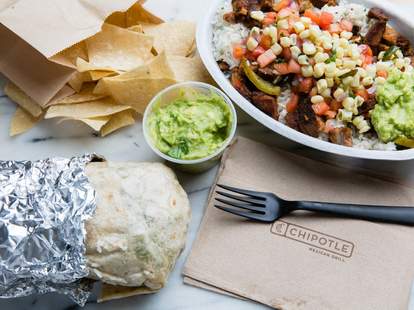 From online games that reward you with a free order of chips and guac to buy-one-get-one free burrito deals, Chipotle routinely hands out millions of dollars worth of food to lure you into its restaurants. And while the free burritos have sadly come and gone for now, Chipotle's annual "Boorito" Halloween deal is back and it promises what's perhaps the next-best thing: $3 burritos. 
Here's the deal:
Like in previous years, you can get a burrito, burrito bowl, order of tacos, or salad for $3 just by showing up at your local Chipotle in your costume this Halloween. The discount is good from 3pm 'til close at most of the burrito empire's locations in the United States, excluding Hawaii and Alaska, according to the official "Boorito" deal page. Basically, you can safely expect to dine on spookily cheap burritos alongside a Salt Bae or two, at least one Pennywise, and maybe a Mad Pooper if you're lucky. We don't particularly recommend showing up in a health inspector costume, though. They probably won't be amused.
Chipotle is also offering a chance to win "free burritos for a year," and best of all, you won't need a costume for it. All you have to do is text "BOORITO" to 888222 before midnight on October 31 and you'll be entered into a drawing for the grand prize of 52 Free Burrito Cards worth up to $10 each, according to the fine print. Maybe if you win, you can save the aluminum foil from all of the free burritos and dress as one for the same deal next year. Or something like that.
If you're a complete fright fiend, check out our guides to find the Best Haunted Houses in Atlanta, Denver, Houston, New Orleans and Virginia and the Most Haunted Places in Arizona, Georgia, Michigan, North Carolina, Ohio, Pennsylvania, and Texas.
Sign up here for our daily Thrillist email and subscribe here for our YouTube channel to get your fix of the best in food/drink/fun.
 
Tony Merevick is Senior News Editor at Thrillist and could go for a giant steak burrito right about now. Send news tips to news@thrillist.com and follow him on Twitter @tonymerevick.