Chipotle Is Giving Away Free Burritos to Teachers Today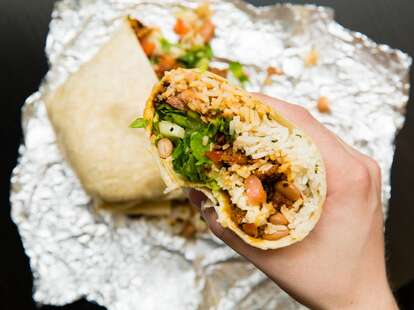 Cole Saladino/Thrillist
Cole Saladino/Thrillist
While you probably remember Teacher Appreciation Day as that time when your mom would send you to school with a cheesy mug or Starbucks gift card for your favorite teacher, the day and the larger Teacher Appreciation Week is one of the few occasions when educators get the respect and recognition they deserve. A big part of that is a school busload of deals at restaurants and stores, but it looks like Chipotle is celebrating teachers a bit early this year with a free burrito promotion.
Here's the deal:
If you're a teacher, faculty, or some other type of school staff member and can prove it with a school ID, Chipotle will give you a free burrito, burrito bowl, salad, or order of tacos, but only when you buy another menu item, according to the company's website. Although Teacher Appreciation Day falls on May 9 this year, the buy-one-get-one promotion is good today, may 2 from 3pm to close at Chipotle locations nationwide (excluding online orders) with a limit of one freebie per eligible educator. Depending on how hungry you are, you can probably knock out both a late lunch and dinner with the deal, if you time it out right.
By the way, it's been a busy week for Chipotle. The burrito chain revealed its first-ever dessert menu item, announced positive earnings for the first quarter, and disclosed a data security breach that may have allowed hackers to steal your credit card information. All of this as the company continues its recovery from the disastrous food-borne illness crisis in late 2015, a strategy that has involved numerous deals for free food. So, if you're not a teacher, don't worry -- you'll probably get a chance to score a burrito sometime soon.
Sign up here for our daily Thrillist email, and get your fix of the best in food/drink/fun.
Tony Merevick is Cities News Editor at Thrillist and still needs to use his coupon for free chips and guac. Send news tips to news@thrillist.com and follow him on Twitter @tonymerevick.