It's Official: Chipotle Is Opening Its First Burger Restaurant This Fall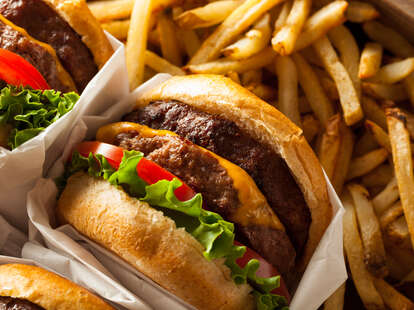 shutterstock.com
shutterstock.com
Finally, after months of rumors, speculation, and not-so-subtle trademark applications, Chipotle recently announced it is officially biting into the fast-casual burger business. And despite its ongoing struggle to lure customers back to its burritos after devastating food-borne illness incidents, the company plans to open the first outpost of the all-new new burger restaurant concept this year.
Chipotle said the new "better burger" chain is called Tasty Made and that it plans to open the first location in Lancaster, OH (just southeast of Columbus), as soon as sometime this fall, according to a report by the Associated Press. The menu appears to be as limited and focused as that of Chipotle Mexican Grill, offering just burgers, fries, and milkshakes. And as explained in a report by Eater, Tasty Made will also adhere to the Chipotle's model of "food with integrity" by using fresh ingredients like "responsibly raised brand beef," among others.
"Early fast food burger restaurants generally had focused menus," Chipotle founder Steve Ells said in a release, per the Eater report. "We think there's great strength in that original fast food model and wanted to create a restaurant built around that. Making only burgers, fries and shakes with really great ingredients, we think we can appeal to peoples' timeless love of burgers, but in a way that is consistent with our long-term vision."
If the concept sounds familiar, well, that's probably because it's what almost every high-end burger chain -- Shake Shack, for example -- has already offered for years now, although Shake Shack has recently branched out with the addition of its first fried chicken sandwich. As may have guessed by now, Tasty Made will face enormous competition in the burger space from existing big players like the aforementioned NYC-based favorite, Five Guys, Smashburger, In-N-Out, and others.
But just think of it this way: more cheeseburgers for you.
Sign up here for our daily Thrillist email, and get your fix of the best in food/drink/fun.
Tony Merevick is Cities News Editor at Thrillist and loves the idea of having more cheeseburgers available to him. Send news tips to news@thrillist.com and follow him on Twitter @tonymerevick.