Now Chipotle Wants to Win You Back with Free Booze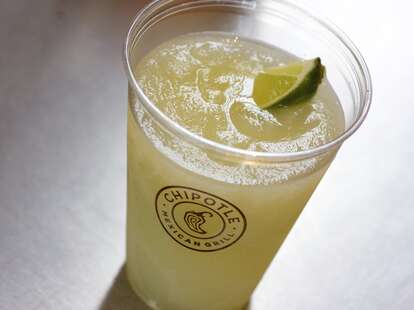 LEE BRESLOUER/THRILLIST
LEE BRESLOUER/THRILLIST
Chipotle has spent the last several months attempting to lure customers back to its restaurants with numerouspromotions for free food, and even launching its first-ever customer rewards program. Now, the embattled fast-casual burrito chain appears to be trying a new tactic: free booze.
As CNBC reports, the company has launched a new "Happy Four Hours" promotion, which includes half-price and 2-for-1 deals on alcoholic drinks, like margaritas and beer, from 4pm to 8pm. However, the deals are only good at about 300 of Chipotle's booze-serving locations in Iowa, Kansas, Kentucky, Missouri, Nebraska, Ohio, and Wisconsin, according to the company's happy hour website. The exact deals vary by state, but it looks like all of them run from now through September.
If you live outside of those markets, however, don't expect free or cheap booze with your burrito any time soon. Chipotle spokesperson Chris Arnold told Eater that "Happy Four Hours" is currently just a regional promotion and that such deals face restrictions from the hodgepodge state and local liquor laws. But offering the happy hour elsewhere is still not entirely implausible in the future, he said. Basically, ¯\_(ツ)_/¯.
Anyway, who can say no to half-price or buy-one-get-one margaritas? Well, at least that's probably the thinking Chipotle is betting on.
Sign up here for our daily Thrillist email, and get your fix of the best in food/drink/fun.
Tony Merevick is Cities News Editor at Thrillist and can't remember the last time he had a beer at Chipotle, but he knows he's done it at least once. Send news tips to news@thrillist.com and follow him on Twitter @tonymerevick.