Chipotle Just Revealed 3 Menu Hacks You Can Order Through Its App
An upgraded feature allows you to adjust ingredients and create new menu concoctions.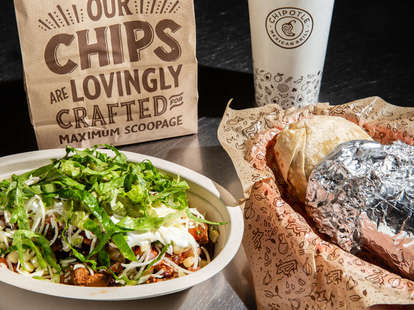 Is Chipotle actually good? After 10 years as a regular customer I'm still not entirely sure, but who among us is really in it for the guac... We want that exquisite customization high. Well, rejoice, my friends, because Chipotle just updated its app to make customization easier from home. You can now select your preferred amount of each ingredient as you order and, well, it's about time.
This new ability to make an ingredient "light, standard, or extra" would have been the entire story, if not for a surprising press release from the burrito chain on Tuesday. Along with the feature announcement came the release of a new TikTok hack menu, where people explain how to get nachos, dip, and taco salad -- none of which are on the menu -- through strategic use of the feature.
In the nacho video, the voiceover tells us to start by ordering a burrito bowl with chicken, then get no rice, half and half beans, guac, mild salsa, corn salsa, and a side of both chips and queso blanco. Then, when you get the order, put queso-covered chips in the oven before topping it with the contents in the bowl.
This dip is basically everything but rice and meat thrown into a bowl, plus a side of chips. Just add some lime and Tajin when it arrives.
This taco salad one is kind of lame, and you have to listen to someone chew at the end. The main "hack" is the crushed chips at the end.
"We're working to integrate everything fans love about Chipotle restaurants into our app," said Curt Garner, Chief Technology Officer, in the press release. "The interactions between our employees and customers moving down the line is so important, and Complete Customization lets our fans replicate the nuances of their favorite orders digitally."
By the way, you can get $1 delivery for any order over $10, now until May 31. But If you don't like Chipotle at all, I recommend my "quarantine dip." Just mix olive oil, canned tuna, spices, and beans in a bowl and replace your chips with uncooked spaghetti.
Sign up here for our daily Thrillist email and subscribe here for our YouTube channel to get your fix of the best in food/drink/fun.
Ruby Anderson is a News Writer at Thrillist. Send your tips to randerson@thrillist.com.