Chipotle Just Extended Its Free Guacamole Deal Through Today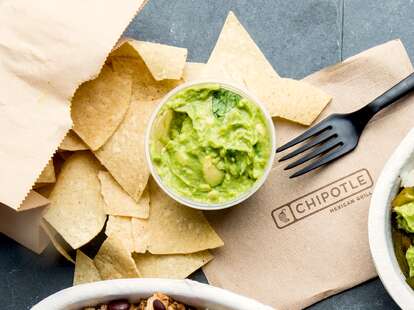 Guacamole won't cost you extra -- for an extra day. After technical problems plagued Chipotle's National Avocado Day Deal for free guacamole on Tuesday, the burrito empire announced it is making it up to frustrated customers by extending the giveaway through the end of the day on Wednesday, August 1.
In statement via email, a spokesperson for Chipotle said an avalanche of activity on its digital ordering platforms essentially crashed its website and mobile app. Many customers complained of issues on Twitter while attempting to place their orders right around lunch time, though it wasn't immediately clear how widespread the glitches were or how many people it impacted. Chipotle confirmed the issues have since been corrected, and the guac is flowing just fine now.
"We had an unprecedented increase in new digital customers as a result of the free guac promo in honor of National Avocado Day," the company said. "Unfortunately, breaking these records also broke the internet, but we are now back up and running."
To make up for the blunder, the burrito chain is officially extending the big guac giveaway for another whole day. Though the company stopped short of apologizing for ruining anyone's lunch plans on Tuesday.
"To thank our customers for their understanding during our challenges today, we're extending the promo. Get free guac with any entrée ordered online or via the app through Wednesday, while supplies last with no code necessary," Chipotle said in a statement. "Today's enthusiasm showed us that customers want online ordering solutions, and we're committed to making our digital options bigger and better in the future."
Unlike the initial offer, you don't need to a promo code to get your hands on the free guac, the spokesperson told Thrillist. All you have to do is create an order for any Chipotle entree -- burrito, burrito bowl, salad, or order of tacos -- via Chipotle's website or mobile app and you'll be able to add the guacamole for no additional charge. You can get your guac as an add-on for your burrito, in a cup on the side, or as a whole order of chips and guac (easily the best way to go). The only requirement is that you either create a Chipotle account or use your existing one in order to select the offer while placing your order. It's mercifully easy this time.
As of Wednesday morning, both Chipotle's online ordering site and its iPhone app worked without incident, when tested by Thrillist.
Anyway, if all goes well, you'll be scooping up the creamy green stuff in no time. Happy (belated) National Avocado Day.
Sign up here for our daily Thrillist email and subscribe here for our YouTube channel to get your fix of the best in food/drink/fun.