Chipotle No Longer America's Most Popular Mexican Restaurant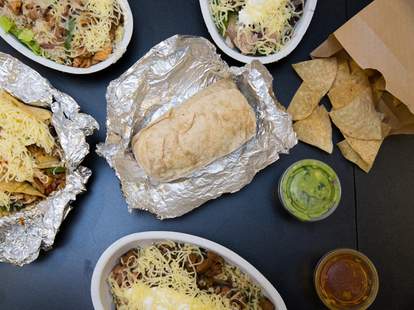 Thrillist Media Group/Laura Murray
Chipotle, once America's favorite hub for a quick burrito, has lost the title of the country's favorite fast-casual Mexican restaurant, according to the Harris Poll's annual Restaurant Brands of the Year survey.
Collecting the opinions of nearly 100,000 nacho noshers, Harris Poll has determined that Moe's Southwest Grill is the exact shape of the quesadilla-shaped hole in the American heart. It's surprising, in part, because Moe's isn't close to being as readily available as Chipotle. There are almost 650 Moe's Southwest Grills compared to over 2,000 Chipotle restaurants.
Chipotle wasn't just unseated, it was knocked down a few pegs. Ahead of Chipotle this year were Taco Bell, Qdoba, and Baja Fresh. Many have speculated that multiple food safety concerns hitting Chipotle over the last year has had a big impact on perception of the chain and the general willingness to frequent the restaurant.
Moe's had the survey's biggest jump of any restaurant in any category, showing a 13 percent equity increase.
Other titles in the 2016 survey included In-N-Out being named the best Burger Restaurant, IHOP being named best Casual Dining Restaurant, Chick-fil-A being named best Chicken Restaurant, Dunkin' Donuts being named best Coffee & Quick Service Restaurant, Olive Garden being named best Italian Dining Restaurant (probably because of deep dish spaghetti pies), Pizza Hut being named best Pizza Chain, and Subway being named best Sandwich Shop. 
The results are infallible, really. No one will have any complaints. 
 
Sign up here for our daily Thrillist email, and get your fix of the best in food/drink/fun.
Dustin Nelson is a News Writer with Thrillist. He's a big fan of Taco Juanita's. Follow him @dlukenelson.