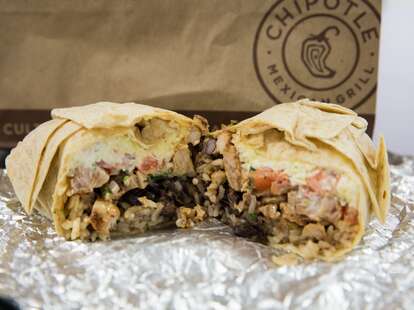 Just over a month after federal health officials ended an investigation into Chipotle's widespread E. Coli outbreaks, the burrito chain reportedly closed one of its restaurants in Massachusetts on Tuesday after an employee was diagnosed with norovirus.
According to a report by Boston news station WHDH, Chipotle voluntarily closed its outpost in Billerica, MA after public health officials confirmed one of the workers had a case of the highly contagious gastrointestinal illness. Fortunately, the Billerica Board of Health said there are no reports of customers who have fallen ill after eating there, per the report. When reached via email, a Chipotle spokesman said four employees at the restaurant were sick, but could not confirm any tested positive for norovirus.
"After learning that four of our employees were not feeling well, our restaurant in Billerica, Mass. was closed for a full sanitization," Chris Arnold, the Chipotle spokesman, said in a statement. "We do not know know if the employees are ill with Norovirus and no customers illnesses are connected to this restaurant. Any employees who reported feeling ill will be tested and held out of the restaurant until they fully recover."
The scare comes exactly a month after Chipotle briefly closed all of its restaurants for an all-hands food safety meeting in response to the earlier food borne illness outbreaks. It was reported that Chipotle executives strongly urged employees to stay home if they feel sick and said Chipotle would immediately close any restaurant if an employee vomits while on duty, but there are currently no indications this occurred at the Billerica location. In early December, another Chipotle in nearby Brighton closed for days after more than 150 people were sickened with norovirus linked to the restaurant.
Thrillist reached out to the Billerica Board of Health seeking additional details.
Sign up here for our daily Thrillist email, and get your fix of the best in food/drink/fun.
Tony Merevick is Cities News Editor at Thrillist. Send news tips to news@thrillist.com and follow him on Twitter @tonymerevick.