Chipotle Is Working on More Plant-Based Options, Including Cauliflower Rice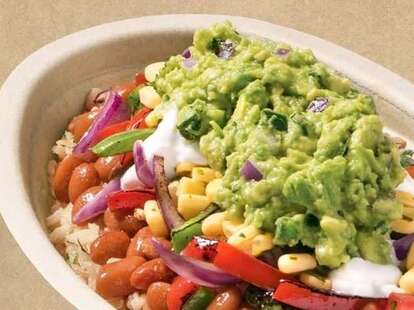 There's a reason nearly every chain is hopping aboard the plant-based food trend, and it's more than just an attempt to appease vegans and environmentalists. The market is booming, with the faux meat industry estimated to be a $10 billion business.
But unlike its competitors, who have partnered with Beyond Meat and Impossible Foods, Chipotle is going a different -- yet still plant-based -- route. Earlier this month, the company's CEO Brian Niccol said the chain plans to introduce less-processed ingredients.
"We are definitely experimenting with plant-based foods. We're in the early days of it," Niccol told Bloomberg. "What we want to do is make the world's greatest cauliflower rice, as opposed to process something and make it seem like it's something else."
And while vegan-friendly meat alternatives have driven massive success for Dunkin', Burger King, and other fast food chains, Niccol said the Beyond and Impossible products are simply too processed for the company that boasts "food with integrity."
In addition to Chipotle's plans for a cauliflower rice launch, its pre-existing tofu option sofritas, and new vegan and vegetarian-friendly bowls, the chain wants to utilize black beans in more menu items. "When we do plant-based, it's gonna be real plants," CFO Jack Hartung said during a segment of Yahoo Finance's "The First Trade."
"You're going to see produce like super greens, you're going to see peppers -- we have to heat up peppers on our line," he continued. "I would not expect to see any kind of, you know, where you take plants and then you process the ingredients, then turn it into something like a ground beef or a burger or something like that."
h/t Bloomberg
Sign up here for our daily Thrillist email and subscribe here for our YouTube channel to get your fix of the best in food/drink/fun.
Megan Schaltegger is a staff writer at Thrillist. Follow her @MegSchaltegger.