Chipotle Is Bringing Queso to 350 Restaurants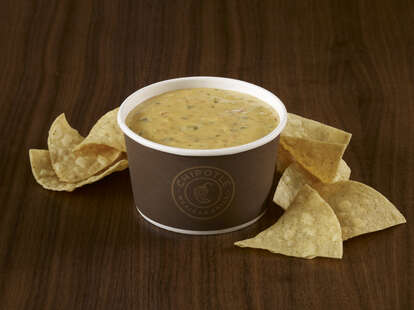 Courtesy of Chipotle
Courtesy of Chipotle
For the first time in its 24 year history, Chipotle finallystarted serving its own take on queso earlier this month, much to the excitement of burrito eaters who have long demanded cups of the savory cheese at the chain's restaurants. And while the company is grappling with a recent food-borne illness incident, execs delivered some decidedly good and exciting news for customers on Tuesday: queso is coming to more restaurants.
During a quarterly earnings call with analysts, Chipotle Chief Marketing and Development Officer Mark Crumpacker announced that the burrito purveyor is expanding its test launch of queso from the single Chipotle NEXT Kitchen restaurant in NYC to more than 350 outposts across southern California and the Denver area. The melty tortilla chip accessory, which you can also order as a topping for your burrito or burrito bowl, will be available in these restaurants starting on August 1.
Better yet, Chipotle execs said the company could unleash queso on its menus nationwide as soon as this September, depending on how well it's received in the new test markets. CEO and Founder Steve Ells said he's confident about the expansion, especially considering how queso has long been the most-requested menu item among customers.
"We've been really pleased with the response to queso in the initial test at our NEXT Kitchen in New York, and want to see how it will do in a couple of markets," Chipotle spokesman Chris Arnold said when reached via email. "Since beginning the test in New York, we have believed that the queso test was something that we could expand quickly, from an operational perspective, if we opted to do so."
All said, it's probably safe to get excited if your go-to chicken burrito bowl is seriously in need of a crapload of cheese sauce. Queso is coming.
Sign up here for our daily Thrillist email and subscribe here for our YouTube channel to get your fix of the best in food/drink/fun.

Tony Merevick is Senior News Editor at Thrillist and can't wait to try it on a burrito bowl. Send news tips to news@thrillist.com and follow him on Twitter @tonymerevick.