Chipotle Just Changed Its Queso Recipe So It's Not a 'Crime Against Cheese' Anymore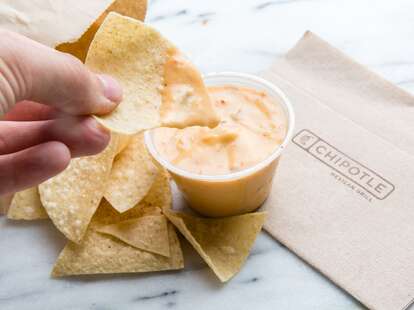 Though greatly hyped, Chipotle's queso quickly became one of the fast food world's cruelest jokes upon its September debut. The tortilla chip accessorie was uniformly panned by burrito snobs on Twitter, providing an unexpected shock to the hopeful burrito peddler.
But in an effort to amend the damage and curry favor among the hordes of customers who were gravely disappointed by the company's "crime against cheese," Chipotle revealed on Wednesday that it has tweaked its queso recipe based on all the feedback.
Visiting the chain's Chipotle NEXT test kitchen in NYC, Business Insider reports that Chipotle is taking measures to address one of queso's fatal laws: that it's too grainy.
Company spokesperson Quinn Kelsey said fans should be enticed by the new mixture, which is currently available at Chipotle locations nationwide. From the sound of it, the new recipe likely won't induce nightmares of swampy cheese whiz teeming with weird, granular matter.
"Back when we first launched queso we said we'd continue to tweak the recipe and that's exactly what we've done," Kelsey told Thrillist via email. "Chipotle's queso is creamier but still has a really delicious flavor and is still made with all real ingredients (no preservatives or any artificial ingredients here!)."
Wednesday also provided another scooplet from the Chipotle queso-verse: the company is finally testing nachos. The burrito empire's lack of menu diversity and reluctance in terms of catering to the demands of its clientele have often been seen as a potential death knell for the company. Nachos have long been a menu-hack for the Chipotle-nerds among us, but the company has often resisted making the secret item a permanent menu fixture. Instead, Chipotle has doubled down on promotions for free food to lure customers into its stores after a series of food-borne illness outbreaks damaged its reputation.
The move to potentially introduce nachos, which are currently available at the Manhattan test kitchen for $4.80, might prove financially risky. The public's lukewarm reception of queso, coupled with the online banter skewering the nascent dip, triggered an immediate stock loss for the company. As anyone with an understanding of cheese can confirm, Chipotle's presumptive nachos will require queso, meaning a revamped version of the sauce can't inspire anything reminiscent of "expired velveeta" if it's to be deemed successful.
The queso makeover comes as Chipotle charts an uncertain course after its Founder and CEO Steve Ells announced plans to step down from his role on Wednesday.
Sign up here for our daily Thrillist email and subscribe here for our YouTube channel to get your fix of the best in food/drink/fun.

Sam Blum is a News Staff Writer for Thrillist. He's also a martial arts and music nerd who appreciates a fine sandwich and cute dogs. Find his clips in The Guardian, Rolling Stone, The A.V. Club and Esquire. He's on Twitter @Blumnessmonster.