Chipotle Just Revealed the States That Eat the Most Burritos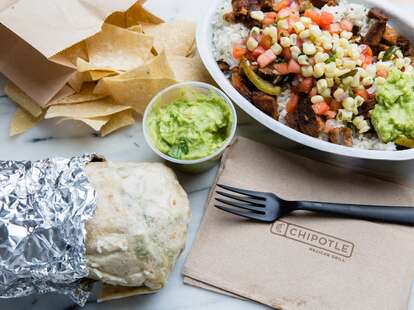 Cole Saladino/Thrillist
Cole Saladino/Thrillist
After a seemingly interminable trip through the Burrito Day Advent Calendar, National Burrito Day is finally here. In observance of this sacred pastime, Chipotle has revealed exactly who eats the most burritos on a per-person level, so that we might learn more about ourselves and our relationship to the best food that also resembles balled-up socks.
We'll share some other fun facts as well (for instance, Ohioians order more cheese and sour cream per person than any other state), but here's a handy map that shows every state's burrito-consumption habits. The darker the state is, the more burritos ordered per person. And just below that, we've listed the complete ranking (which doesn't include the states without Chipotle -- Alaska, Hawaii, or South Dakota -- but does include Washington, D.C.).
Here's the complete ranking:
48. Alabama
47. Georgia
46. Texas
45. New York
44. North Carolina
43. Florida
42. South Carolina
41. Tennessee
40. Delaware
39. Illinois
38. Washington, DC
37. Kentucky
36. New Jersey
35. Louisiana
34. Oklahoma
33. Indiana
32. Maryland
31. Mississippi
30. Arkansas
29. Virginia
28. Connecticut
27. Pennsylvania
26. West Virginia
25. Michigan
24. Missouri
23. Rhode Island
22. Massachusetts
21. California
20. Ohio
19. Nebraska
18. Nevada
17. Iowa
16. Kansas
15. Wisconsin
14. Arizona
13. Washington
12. Vermont
11. Maine
10. New Hampshire
9. Minnesota
8. Oregon
7. North Dakota
6. New Mexico
5. Idaho
4. Colorado
3. Utah
2. Montana
1. Wyoming
As you can see, Wyoming took home the golden burrito here, but there are some other notable frontrunners in other categories. For instance, Maine orders the most guac of any state. Wyoming, Montana, and New Mexico, on the other hand, order the most meat, which checks out with the rugged reputation of those states. Finally, New Mexico, Texas, and Arizona are the states that are the fondest of hot salsa.
So, celebrate and eat your own burrito, knowing the state of Wyoming is with you, and that it's just 365 short days until the next National Burrito Day.
Sign up here for our daily Thrillist email and subscribe here for our YouTube channel to get your fix of the best in food/drink/fun.