It's Official: Chipotle's New Rewards Program Launches on Friday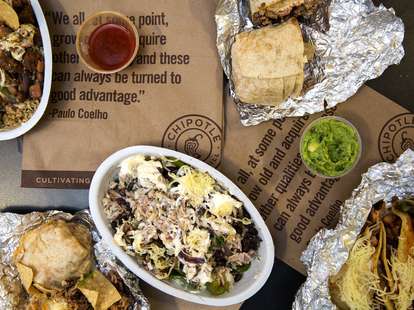 Laura Murray/Thrillist
Laura Murray/Thrillist
From free chips and guac to buy-one-get-one burritos, Chipotle has served up several promotions for free food this year as part of its ongoing campaign to win customers back after its devastating food-borne illness incidents. And now, the burrito chain is about to take things to the next level this Friday with the launch of an all-new summer rewards program called Chiptopia. Translation: more free food for you.
The program officially starts on Friday, July 1st, when Chipotle restaurants nationwide will begin offering Chiptopia membership cards. But in the meantime, here's what you need to know:
Chiptopia doesn't seem to work like your typical fast food or coffee chain rewards programs. For one, it's only a temporary promotion that will last for the next three months (July through September), according to a press release from the company.
And whereas other programs give you points for every dollar you spend, Chiptopia works by rewarding you with free entrees based on how many times you buy a meal at Chipotle within a month. Each meal (costing at least $6) that you buy will count towards three different monthly rewards statuses -- Mild, Medium, and Hot -- with four meals earning you Mild status for the month and your first free entree.
Confused? Thankfully, Chipotle has a website will all the details and a chart that helpfully breaks down how it'll work:
Still confused? Here's a step-by-step explanation as well as some important fine print via the press release:
During each month of the program, a customer's fourth, eighth and 11th visit and entrée purchase triggers a reward for one free entrée and elevates the customer to a new status level.
Redeemed rewards also count as a purchase toward reaching the next status level. Thus, customers purchase four entrées in any month of the program to earn Mild status; eight entrées (one of which can be the free entrée earned for the Mild level) to reach the Medium level; and 11 entrées (another one of which can be the free entrée earned in the Medium level) to unlock the Hot level.
At the end of each month, purchase totals reset to zero, and participants begin again the following month.
A maximum of one visit (with a purchase of $6 or more) per member, per day counts toward Chiptopia rewards. Purchasing multiple entrées on the same day does not earn additional rewards (for example, if a customer buys three meals at one time or in the same day it only counts for one visit, not three).
Customers who register for the program in July earn a free chips and guacamole with their first entrée purchase.
Oh, and one more thing: If you earn the same rewards status for all three months of the rewards program, Chicpotle will give you BONUS rewards: another free entree for earning Mild all three months, $20 in Chipotle merchandise for earning Medium all three months, and catering for 20 people (a $240 value) for earning Hot all three months. That's some serious loyalty.
The apparent learning curve aside, Chiptopia will mark the first time Chipotle has launched such a loyalty program in its nearly 23 years of making burritos, which is a pretty damn big deal. Execs at the company first teased the idea of a rewards program and even new menu items like chorizo during a quarterly earnings call back in April. Still no word on when that chorizo is coming, by the way.
Sign up here for our daily Thrillist email, and get your fix of the best in food/drink/fun.
Tony Merevick is Cities News Editor at Thrillist and thinks the best food is free food. Send news tips to news@thrillist.com and follow him on Twitter @tonymerevick.