Teachers Can Text Chipotle Right Now for Free Chips & Guac
Thanks to Jimmy Fallon's viral teacher appreciation video, Chipotle is giving a little extra to the people who give it their all.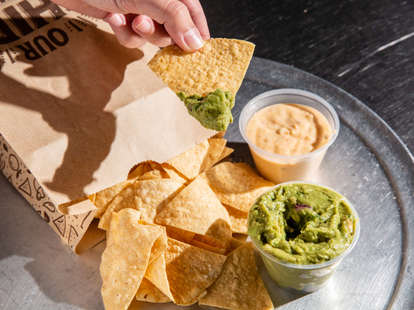 COLE SALADINO/THRILLIST
COLE SALADINO/THRILLIST
This week, Jimmy Fallon decided to make a teacher appreciation video saying all the nontraditional gifts teachers should get, like penalty-free tax evasion, and free guac at Chipotle. And Chipotle just announced that it agrees.
While companies have been offering healthcare workers free coffee, food, and hotel stays during quarantine, teachers have waited patiently for Teacher Appreciation Week food deals, which have never included free guac before. But Fallon's video, which resembled last week's viral "Starting to Crack" performance in both aesthetic and by being slightly off tune, included the line "and at Chipotle they should always get free guac." In a Tweet on May 8, Chipotle responded to the video on The Tonight Show profile, saying the company was "here for this."
As you can see from the tweet, teachers can text TEACHER to 888222 for a chance to win one free order of chips and guac. "Chance" basically means that they have to be one of the first 50,000 people. If you make it, you'll be given an offer code to use during your order.
Here are the official rules. Basically, you get only one regular-size order per offer code, and it's not applicable if you get catering or delivery orders through third-party platforms like DoorDash and Uber Eats. But there are a bunch of other deals that are applicable through third party sites, and many are extended way past the end of the week.
The offer expires on May 22, but you should probably act faster than that. Thanks for zoom calling with our nose-picking seven-year-olds, teachers! We love you.
Sign up here for our daily Thrillist email and subscribe here for our YouTube channel to get your fix of the best in food/drink/fun.