These 25 Colleges Eat the Most Chipotle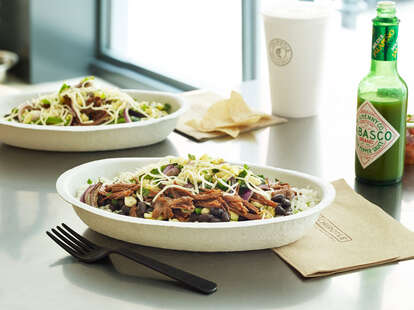 College students eat a lot of Chipotle. I mean, it's not shocking; Chipotle is filling and nourishing, with prices that don't destroy the wallets of stereotypical broke college kids. At a New York City press event a few weeks ago, I met a Chipotle rewards member who was also invited to taste test the chain's new carne asada, a reward he earned by being one of the most frequent diners of Chipotle in the greater New York City area. He's a 20-year-old college student.
So it comes as no surprise that Chipotle has released data revealing the top 25 colleges that go all out for Chipotle, with the most typical order being a Chicken Bowl (cost effective and filling). Here are the schools with students that consume the most Chipotle:
25. Texas A&M University
24. Purdue University
23. California State University, Long Beach
22. University of California, Davis
21. New York University
20. Temple University
19. University of Cincinnati
18. University of Washington
17. Cuyahoga Community College
16. University of Illinois, Champaign
15. University of Michigan
14. University of Maryland University College
13. Valencia College
12. University of Minnesota, Twin Cities Campus
11. Arizona State University
10. Penn State University
9. University of Florida
8. University of Maryland, College Park
7. Virginia Commonwealth University
6. University of South Florida
5. University of Southern California
4. University of California, Irvine
3. University of Central Florida
2. Florida State University
1. University of Colorado, Boulder
Boulder must really like their Chipotle, which might not be too farfetched seeing as the Mexican-inspired chain was founded in Denver. Florida is also seemingly a huge fan: four of the top 10 schools are from the sunshine state. The college area that orders the most guacamole -- and sofritas -- is NYU in Manhattan.
The ranking arrives right before Chipotle's final free Sunday delivery. If you have a hankering for some Chipotle this Sunday, student or not, all deliveries are free for orders over $10, so get that guac.
Sign up here for our daily Thrillist email and subscribe here for our YouTube channel to get your fix of the best in food/drink/fun.
Kat Thompson is a staff writer at Thrillist. Follow her on Twitter @katthompsonn.