Chipotle Just Upgraded Its Rewards Program with New 'Extras'
The burrito chain promises easier free food rewards.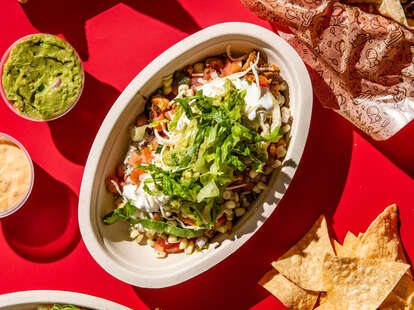 Photo by Cole Saladino for Thrillist
Racking up points and earning free food from your favorite restaurant chains via their loyalty programs never gets old. You get rewarded for something you were already planning to do anyway. It's a good deal. For members of Chipotle's rewards program, Chipotle Rewards, the casual bribery arrangement is getting even better.
The ubiquitous burrito chain announced Wednesday that it's updating Chipotle Rewards with new features and a new mobile app experience for its more than 24 million members. The key new feature is "Extras," which Chipotle describes as a way to make the whole loyalty program feel like a game, complete with personalized challenges, achievement badges, and most importantly, all extra points.
Just as before Chipotle Rewards members will continue earn 10 points for every $1 they spend on orders via the app, online, or in-restaurant. However, the company claims the arrival of "Extras" gives them the chance to score even more points. To celebrate the launch, Chipotle will give you double points (20 per dollar) on an order made between September 1 and September 3.
"Offering new ways to engage with Chipotle is essential to the ongoing evolution of our digital business," Chris Brandt, Chipotle's chief marketing officer, said in a press release. "The new Extras feature gamifies Chipotle Rewards through special challenges and allows Rewards members to celebrate their achievements with special badges."
Taking advantage of the new "Extras" feature sounds pretty straightforward. All you have to do is visit your profile in the Chipotle app or on Chipotle.com and check out the new section labeled "Extras." There, you'll find ways to earn extra points and collect achievement badges along the way. Chipotle didn't offer any examples of what the challenges will look like, and when Thrillist checked the app ahead of the official launch on Tuesday evening, none were listed at the time. A press image (shown above) depicts a challenge that unlocks double points, though, so that should give you a bit of an idea of what to expect.
You can redeem your points for more than a dozen rewards, including free guac, free double protein, free chips and queso, Chipotle merch, and more. You can also use your points to support the company's charity partners, The Farmlink Project, National Young Farmers Coalition, and the National Urban League.
Chipotle said its digital sales have reached $2 billion so far this year, so a free side here and there is the least it can do to lure you back for another burrito.