Although Chipotle has teased new menu items like quesadillas, nachos, and tostadas, the burrito chain has yet to introduce any substantial additions to its national menu since the arrival of its first-ever queso cheese dip in late 2017. But since then, the company has offered a series of "new" menu options -- like Keto and Whole30 burrito bowls -- made with the same lineup of ingredients as usual. The latest specials? The favorite orders of US women's soccer stars.
While the USWNT kicks ass in the 2019 Women's World Cup semifinals, Chipotle is serving up the go-to orders of three star players -- Julie Ertz, Lindsey Horan, and Rose Lavelle -- as easy-to-order options on its menu -- no complicated customizations required. The three entrees -- two different salads and a burrito bowl -- are currently available to order online or via Chipotle's mobile app only and only for a little while, according to a spokesperson. All three are prominently featured on the online and mobile app menus, so you won't miss them.
Recommended Video
Send Foodz: Taste of Atlanta
Here's how Chipotle describes each of the special orders, per a press release:
Julie Ertz Salad: brown rice, black beans, half steak, half chicken, fajita veggies, extra roasted chili corn salsa, lettuce and chipotle-honey vinaigrette
Lindsey Horan Salad: black beans, chicken, extra fajita veggies, fresh tomato salsa, tomatillo green-chili salsa, roasted chili corn salsa and guac
Rose Lavelle Bowl: brown rice, black beans, chicken, fresh tomato salsa, roasted chili corn salsa, lettuce and a side of guac
Of course, all of these options have long been available for anyone to order at Chipotle. The only difference now is that all of the customization is taken care of for you.
"Chipotle's real ingredients are powering this talented trio's quest for the championship and we wanted to give their fans and ours another way to celebrate America's team," Chris Brandt, Chipotle's chief marketing officer, said in a statement. 
The USWNT will face off with England in a World Cup semi-final match on Tuesday, starting at 3pm EST.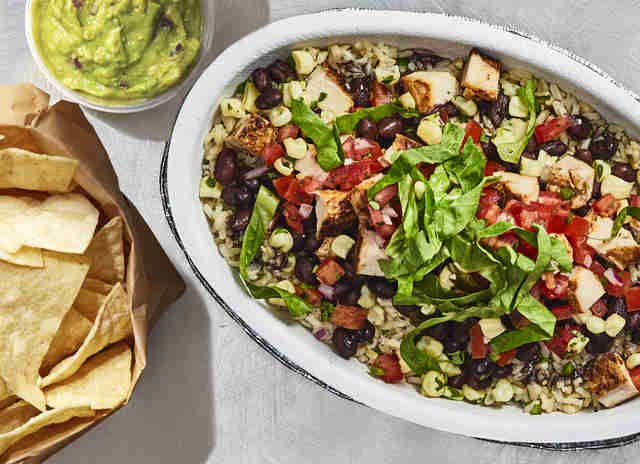 Along with the special USWNT orders, Chipotle is also offering a deal for free delivery over the long Fourth of July holiday weekend. From Friday, July 5, through Tuesday, July 9, you can get free delivery (where it's available) on Chipotle mobile or online orders of $10 or more. As you probably know by now, spending 10 bucks at Chipotle is all too easy, so you might as well have your food delivered while you watch the game.

Sign up here for our daily Thrillist email and subscribe here for our YouTube channel to get your fix of the best in food/drink/fun.