Over the last few weeks, Chipotle has continued the long recovery from its devastating food-borne illness crisis by touting an additive-free menu, raising prices, and even revealing its first-ever dessert. But now, it looks like the burrito chain has got another big problem on its hands: a data breach that potentially exposed customers' credit card information.
Chipotle announced on Tuesday that it's investigating a major data security breach involving the payment system it uses at its restaurants. In a statement via its website, the company warned customers of "unauthorized activity" detected on its network, potentially affecting transactions that took place from March 24 through April 18 of this year. In other words, if you bought your chicken burrito bowl with a credit or debit card during that time period, there's a chance that hackers may have accessed your information. Chipotle said it has stopped the unauthorized activity, but urged customers to keep an eye on their card statements for potential fraudulent activity. 
"Because our investigation is continuing, complete findings are not available and it is too early to provide further details on the investigation," the company said. "We anticipate providing notification to any affected customers as we get further clarity about the specific timeframes and restaurant locations that may have been affected."
Here's Chipotle's full statement regarding the breach:
Recommended Video
Thrillist's Best (and the Rest): What You Actually Need to Know About Natural Wine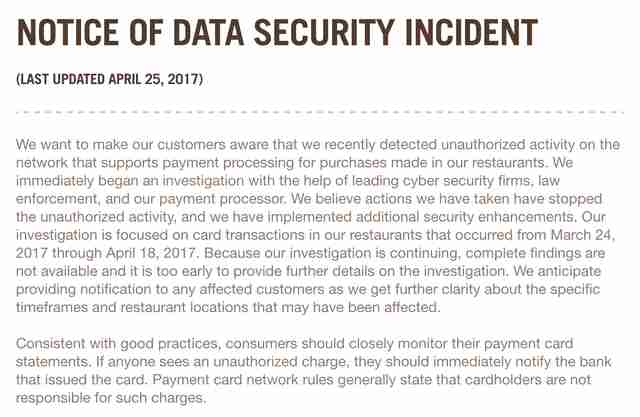 News of the breach darkened Chipotle's otherwise positive results for the first quarter of the year, which included a 17.8% increase in same-restaurant sales and a 28.1% increase in revenue, according to a report by CNBC. However, the company's stock was up as of early Wednesday afternoon.
So far, there aren't any reports of customers with unauthorized charges on their cards associated with the breach, but similar restaurant data breaches that allowed hackers to steal customers' payment information have led to numerous lawsuits. We'll keep you updated as more information comes out. 
Sign up here for our daily Thrillist email, and get your fix of the best in food/drink/fun.