Chipotle's First Tasty Made Burger Restaurant Opens on Thursday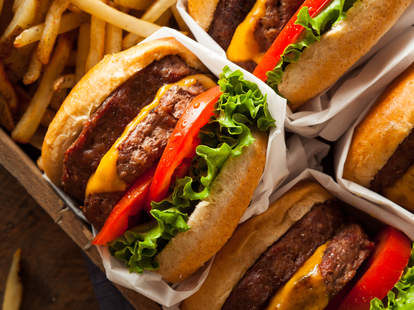 It's official, folks: the first location of Chipotle's new "better burger" chain, Tasty Made, will finally open its doors on Thursday, following months of growing anticipation among prospective eaters, and at the same time, near-silence from the beleaguered burrito purveyor about its plans for the concept. The news comes just a day after Chipotle reported another quarter of disappointing sales and said it's betting big on its move into the burger business.
The new burger joint will open in a small strip mall space at 732 N. Memorial Drive in Lancaster, Ohio (just southeast of Columbus) at 10am on Thursday, according to a report by The Columbus Dispatch. As the company previously teased, Tasty Made will serve a super simple menu of just cheeseburgers, fries, sodas, and milkshakes. Specifically, the burgers will be grilled to order, the fries will be hand-cut and fried twice, and they'll also serve a special Buckeye-themed shake to celebrate the chain's start in Ohio, per the paper.
"Lancaster is the ideal market for this, because the people here really appreciate an excellent burger served at a reasonable price," Chipotle exec Dave Chrisman said in a press release. "I ought to know, because I grew up just miles from here. And the warm welcome from our community has been great. They are very excited that the first Tasty Made is in their town."
As a report by Eater explains, the concept will be more like fast food than the fast-casual style of Chipotle, but will adhere to the same high quality ingredient standards the company touts for its burritos. Unsurprisingly, the location will also have a drive-thru. So far, there aren't many photos of Tasty Made and its food on social media, but here's a handful that'll give you at least a glimpse of what you can expect from the new burger joint:
Looks pretty damn good, right? Well, perhaps the best part is that the company claims its prices will be similar to that of other fast-food chains like Burger King and Wendy's, according to the Dispatch, despite the high level of quality it promises. Chipotle made no mention of when or where to expect additional Tasty Made locations, unfortunately, but it's probably only a matter of time before they'll all over.
Of course, it remains unclear if Tasty Made will ultimately change Chipotle's fortunes after the major food-borne illness incidents last year, but at least one thing is certain now: more cheeseburgers for you.
Sign up here for our daily Thrillist email, and get your fix of the best in food/drink/fun.
Tony Merevick is Cities News Editor at Thrillist and actually would love to try the burgers, fries, and shakes from this place. Send news tips to news@thrillist.com and follow him on Twitter @tonymerevick.