Taste-Test: We Tried the New Chips Ahoy! Chewy Red Velvet Cookies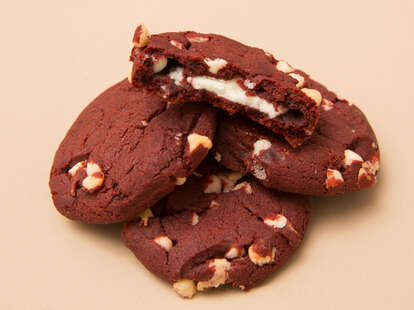 Although actual red velvet cake will always be better than red velvet-flavored cookies, Nabisco got pretty damn close to nailing it with the limited-edition red velvet Oreos it released last year. Now, the snack company is baking the classic red dessert into all-new chewy Chips Ahoy! cookies, and we managed to get our hands on some for a taste-test.
The new, slightly chocolatey cookies come with a cream cheese frosting filling and cream cheese-flavored chips on top. Nabisco has also unleashed a new S'mores version of the chewy cookies with a chocolate fudge center marshmallow-flavored fudge chips. No campfire and bug spray necessary.
Both new flavors are already landing in grocery stores nationwide, but before you go out and grab some, here's what you need to know: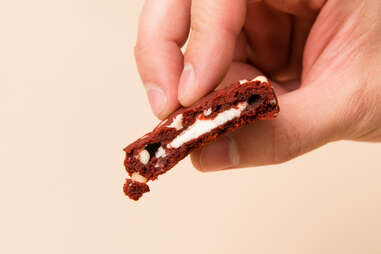 How they taste
As you can imagine, red velvet cake condensed into cookies is stupidly sweet. But once you get past the initial sugar-overload, the subtle chocolatey red velvet cake flavor of the cookie comes out along with the spot-on cream cheese frosting. That's right, the cream cheese frosting filling is, rather unsurprisingly, the star of the show here.
However, if you intend to eat more than one of the red velvet cookies, you'll almost certainly need to pour yourself a glass of milk -- not just for the dunking and flavor combo, but also help wash away the intense sweetness after every other cookie or so.
The same can be said of the new s'mores-flavored cookies. But if you really want to get the full "campfire" and s'mores-like experience, you have to pop them in the microwave -- two at a time -- for 10 seconds. Basically, if you're eating them straight out of the package, well, you're doing it wrong.
The verdict
Red velvet-flavored cookies will never replace true red velvet cake. But just like it did with the red velvet Oreos last year, Nabisco was able pack many of the cake's best qualities into the convenient form of Chips Ahoy! cookies. If you're a fan of red velvet, you won't be disappointed. The new s'mores cookies, although good on their own, need a bit of heat to be great.
And yes, just like Chips Ahoy!'s original chewy chocolate chip cookies, it's dangerously easy to polish off an entire package of the damn things. You've been warned.
Sign up here for our daily Thrillist email, and get your fix of the best in food/drink/fun.
Tony Merevick is Cities News Editor at Thrillist and is not allowed anywhere near cookies for at least a few weeks now. Send news tips to news@thrillist.com and follow him on Twitter @tonymerevick.