Chocolate-Drizzled Fries at McDonald's Are a Real Thing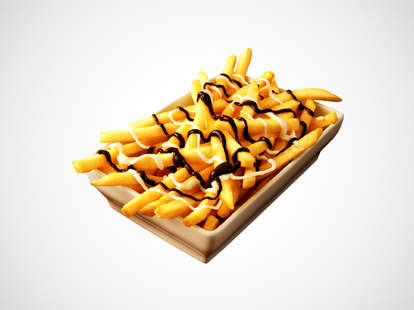 Even if you've sworn off eating fast food (good luck with that!) and anything from McDonald's, you have to admit the signature, salty fries cooked up under the golden arches are pretty damn tempting. If you already have a hard time resisting the crispy spuds, McDonald's is making the struggle that much harder with the launch of new fries that come drizzled with freaking chocolate sauce. They're fittingly called "McChocolate Potatoes," according to a report by Eater.
Luckily -- more like unfortunately -- it looks like they'll only be available in Japan, which means you can add this side/dessert/perfect drinking food to the long list of foreign McDonald's offerings that we can't have here, like a jumbo 48-piece McNuggets meal, the McChurro, and a bucket full of McNuggets and heart-shaped pieces of fried cheese, among others. Oh, and don't even get us starting on the shiny, new McDonald's Next concept store in Hong Kong. America, why can't we have nice things?
As for the jealousy-inspiring chocolate fries, a rough translation of a Japanese-language press release explains they come with a coating of both white chocolate and presumably milk chocolate drizzle, and customers can upgrade their regular fries to the sweet-and-savory combination for an additional charge. Most McDonald's restaurants in Japan will start selling them on January 26th, and there's no word on if and when they'll ever come to the US. However, basic Mickey D's fries with chocolate drizzle sounds pretty easy to hack at home...
Sign up here for our daily Thrillist email, and get your fix of the best in food/drink/fun.
Tony Merevick is Cities News Editor at Thrillist and loves a good sweet and savory combo. Send news tips to news@thrillist.com and follow him on Twitter @tonymerevick.