Chocolate Ramen Is a Real Thing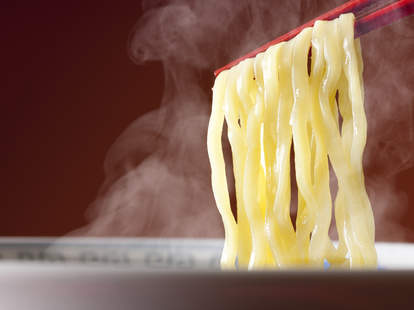 It's like melting a candy bar in your soup, except that sounds kind of gross. This ramen actually looks amazing.
For those who just can't decide between sweet and savory, a restaurant in Tokyo, Japan is making things much easier. Mensho Tokyo plans to introduce a chocolate ramen, which will sell for 880 yen or about $7.30. And just to be clear, this is ramen with big chunks of chocolate in it. 
Take a look.
 
Buy your plane ticket, a Japanese restaurant is serving chocolate ramen https://t.co/qpRImrzRS2 pic.twitter.com/g4A9O6rGvS

— UPROXX (@UPROXX) January 30, 2016
Now, here's the sad part. It's only available for a two week period from February 1 - 14, 2016 at the Tokyo location. However, Eater reports that this restaurant is opening a location in San Francisco, CA. So, maybe if everyone wishes upon a star, the US can have chocolate ramen too someday.
But for now, you'll just have to live vicariously through the Rocket News taste test, which states that the proper way to eat chocolate ramen is by "stirring the chocolate and giving it some time to melt into the broth." This apparently gives the broth a "pleasant sweetness."
Man, Japan gets everything good, like Chocolate fries, Sake Kit Kats, and now this. Better get on the next flight.
Sign up here for our daily Thrillist email, and get your fix of the best in food/drink/fun.
Kara King is a News Writer at Thrillist and puts chocolate on most things. Send news tips to news@thrillist.com and follow her at @karatillie.