Cholula Is Giving Out Free Hot Sauce Tattoos & a Lifetime of Free Hot Sauce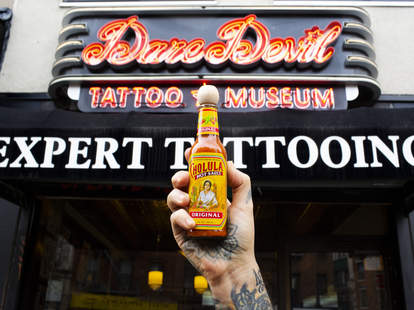 People who love hot sauce are famously loyal. You've got your brand, and that's kind of that. If your brand happens to be Cholula, it's offering an opportunity to proclaim your loyalty in a very permanent way. 
For National Hot Sauce Day on January 22, Cholula is teaming up with chef and Masterchef judge Aarón Sánchez who is also a co-owner of New York's Daredevil Tattoo. (You can see where this is going.) The shop has come up with five Cholula-themed tattoos, and you can get one for free.
Courtesy of Cholula
The free tattoos will be available from noon to 10pm at the shop's Chinatown location on January 22. If you decide to wear your hot sauce love on your sleeve (forever), you might earn a lifetime supply of Cholula. Everyone who gets inked will be entered to win. You probably shouldn't get a tattoo on the off chance you'll win a bunch of free hot sauce. However, if you love Cholula enough to get a tattoo, loads and loads of hot sauce would undoubtedly be a welcome reward for your loyalty.
If you aren't in New York, head to the brand's Instagram page for a chance to be flown to New York and get a tattoo. This is one of those things you're either really excited about or you can't comprehend. When Arby's did something similar, you might have wondered who the hell would do this. The answer was a freaking ton of people. 
Sign up here for our daily Thrillist email and subscribe here for our YouTube channel to get your fix of the best in food/drink/fun.