Chopt Is Selling 6-Packs of Delicious Dressing Flavors for Your Super Bowl Party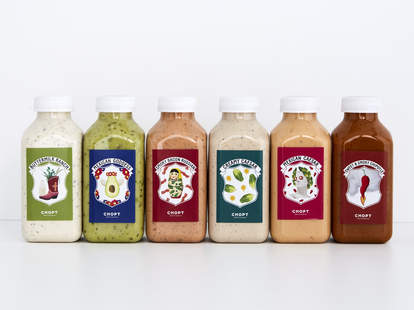 Super Bowl season is upon us, which means two things: 1) eating and 2) drinking. There might be some football, too, but that's honestly optional. So now you have to decide what to bring to hottest Super Bowl party in your neighborhood, and, strangely, a salad place might have just the thing.
From January 31 to February 4, Chopt is selling a "Salad Six Pack" of dressing flavors. Salad may not be your first association with the spectacle of oversized men fighting over a pigskin, but these flavors sound frankly drinkable, and what's more masculine than drinking ranch dressing?
Here's the lineup:
Buttermilk Ranch
Mexican Goddess
Smoky Bacon Russian
Creamy Caesar 
Mexican Caesar 
Sweet & Smoky Chipotle

As you can tell, these flavors have applications well beyond drenching lettuce until it seems like something other than leaves. You could use it as dip or sauce (again, you could just drink it), or you know, you could be the person who brings salad to a party. 
You can snag one of these six-packs at any Chopt location for $30, but only until the February 4, so stock up if you do plan to drink it.
Sign up here for our daily Thrillist email and subscribe here for our YouTube channel to get your fix of the best in food/drink/fun.
James Chrisman is a News Writer at Thrillist who admires anyone who brings salad to a party. Send news tips to news@thrillist.com and follow him on Twitter @james_chrisman2.