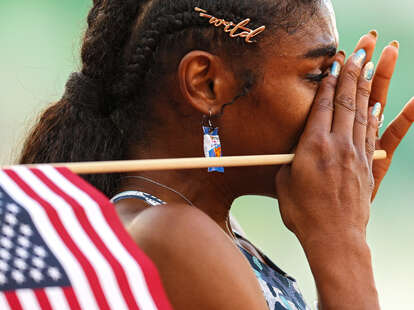 Patrick Smith/Getty Images
Christina Clemons claimed her spot in Tokyo after placing third in the 100-meter hurdles at the US Olympic track and field trials Sunday, but it wasn't just her impressive show on the track that had fans talking. The 31-year-old athlete, who managed a 12.53-second time, raced in Cool Ranch Dorito earrings.
For Clemons, it was a simple and last-minute style statement—she snagged the snack-inspired accessory from Hot Topic on the eve of her big race—but fans quickly took note.
"When I bought them, I didn't think it would be a big thing at all," Clemons told Yahoo Sports. "I was like, 'Oh, these are so cute.' I love Doritos and they matched my uniform, so I decided to wear them in the final."
But by the next morning, she had received a flurry of social media messages about the earrings. And not long after, she @-ed Doritos herself.
Just a few hours later, Doritos fired back. "Hit our DMs so we can talk," the brand wrote on social media. And that she did. "Someone from Doritos reached out to me saying they would like to talk to me next month," Clemons told Yahoo Sports, noting that she would "100%" be down for a Doritos endorsement at the Olympics.
As if it weren't already a sponsorship match made in heaven, turns out Clemons' husband even nicknamed the track star "Dorito"—which her teammates quickly caught on to.
"It's funny because when I trained at Alabama State University the athletes [called] me 'Dorito' because I have broad shoulders and a small waist," she told TMZ.
Megan Schaltegger is a staff writer at Thrillist.