Everywhere You Can Get Free & Cheap Food on Christmas Eve & Christmas
Whether or not you celebrate Christmas, there are a lot of food deals at restaurants you love.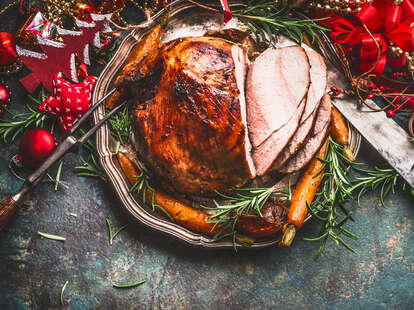 Photo by VICUSCHKA/Shutterstock
Everyone celebrates (or doesn't celebrate) Christmas differently. Some people go out for Chinese food. Some people make a big meal for family. Some people are on the road (and thankful for fast food drive-thrus that are open). Others are looking to stay out of the kitchen by ordering in.
Whatever your wont on the 24th and 25th days of December, there are restaurants that will be open and willing to offer you a deal. To help keep things simple as 2021 gets close to its conclusion, we've pulled together the best deals you're going to find on Christmas Eve and Christmas Day, including food you can order to stock the pantry.
Here are the best food deals you'll find on Christmas Eve and Christmas Day.
Free Food Over Christmas
McDonald's
The deal: For 12 straight days, McDonald's is debuting a Mariah Carey menu that gets you a free menu item with a $1 purchase made through its mobile app. Today's freebie is an order of Chocolate Chip Cookies.
When: December 24
Wendy's
The deal: The chain is running a pair of new deals each week this month. This week, you can use the app to get a free bowl of Chili with any purchase.
When: December 20-26
Wendy's
The deal: The chain is running a pair of new deals each week this month. The second deal lands you a free order of Baconator Fries when you make any purchase at all.
When: December 20-26
White Castle
The deal: Join the Craver Nation loyalty club for the first time (that's in the White Castle app), and you'll get a free Original Slider Combo. That's four Original Sliders, French Fries, and a small drink. You don't have to buy anything.
When: Through December 31
Cumberland Farms, Tom Thumb, Turkey Hill, Quik Stop, Kwik Stop, Minit Mart, Certified Oil, Fastrac Café, and Loaf N Jug
The deal: Snag a free coffee to get you through the holiday. No purchase is required. Everyone gets a free coffee.
When: December 25
BJ's Restaurant & Brewhouse
The deal: If you're new to the Premier Rewards Plus Program, you'll get a free Pizookie in-restaurant. The word looks confusing, but it's basically just a giant warm cookie.
When: Ongoing
Food Deals Available Over Christmas
Wendy's
The deal: For $2, you can buy a Wendy's Key Tag, which lands you a free Jr Frosty every day for a year when you make any purchase. The purchase goes to benefit the Dave Thomas Foundation for Adoption.
When: Through December 31
Auntie Anne's
The deal: Get free delivery on orders of at least $12 placed through the Pretzel Perks app.
When: Through December 25
Jamba
The deal: My Jamba Rewards members get a new reward in the app every day through December 24. Today, they're getting 20% off their entire order.
When: December 24
Atlas Coffee Club
The deal: Trim $10 off your first shipment of coffee beans when you give the coffee club a try.
When: Through December 27
Noodles & Company
The deal: Get free delivery if you're a Noodles Rewards member and order through Noodles.com or the Noodles Rewards app.
When: December 1-31
GoPuff
The deal: Take 20% off some of the available dog and cat treats.
When: December 20-26
Gift Card Deals Available Now
Red Lobster
The deal: Spend $50 on gift cards in-restaurant or online and you'll get a coupon for $10 off an order of $30 or more. That discount will have to be used in January or February.
When: Through December 31
Shake Shack
The deal: Get a voucher for a free shake -- that includes the new holiday shakes -- with every $25 gift card purchase. The voucher is valid through March 31, 2022.
When: Through December 29
The Cheesecake Factory
The deal: Buy $50 in gift cards to get a $15 card for your pocket. Bonus cards are valid from January 1 to March 31, 2022.
When: Through December 31
Grimaldi's Pizzeria
The deal: Buy a $50 gift card and you'll get a $10 bonus card for free. That bumps up to $20 if you buy a $100 gift card.
When: Through December 31
White Castle
The deal: Grab a free $5 gift card when you buy $25 in gift cards. The bonus card will be valid from January 1 to February 28, 2022.
When: Through January 2, 2022
Chuck E. Cheese
The deal: Buy a $25 gift card and you'll get 250 e-tickets. Those will be valid from December 26 through February 28, 2022. So, you can't use them right away.
When: Through December 25
Einstein Bros. Bagels
The deal: Spend $25 on a gift card and you'll get a bonus card worth $5. That can go quite a ways at a bagel shop.
When: Through December 31
The Coffee Bean & Tea Leaf
The deal: Get a free $5 gift card when you buy at least $25 worth of gift cards in-store or online.
When: Through December 31
Auntie Anne's
The deal: Grab $5 in Pretzel Perks (one-time-only use) when you spend $25 on gift cards. The bonus cash has to be spent by March 27, 2022.
When: Through December 31
Farmer Boys
The deal: Get a $5 voucher when you buy $25 in gift cards or a $25 voucher when you spend $100.
When: Through January 17
BJ's Restaurant & Brewhouse
The deal: Buy a $50 eGift Card and you'll get a $10 card for free. If you buy a $100 card, you'll get a free $25 card and a VIP 20% off card.
When: Through January 1, 2022
California Pizza Kitchen
The deal: Grab $20 on a free card when you spend $100 on gift cards.
When: Through December 31
Miguel's Jr.
The deal: Grab a pair of $5 bonus gift cards for every $25 card you purchase online. If you buy a $25 gift card in-restaurant or at the drive-thru, you'll get one $5 bonus card.
When: Through December 31
Jamba
The deal: Drop $25 on a gift card and get a $5 reward card. The reward card will only be valid one time, has to be used in the Jamba app, and can only be used from January 3 to February 14, 2022.
When: Through December 26
Pie Five Pizza
The deal: Get a free personal pizza with up to five toppings or a signature pizza for every $25 in gift cards you spend. Those free pizzas are only redeemable in January.
When: Through December 31
Coffee Bean & Tea Leaf
The deal: Get a $5 kickback card with the purchase of $25 in gift cards online or in-store.
When: Through January 4