It Wasn't a Dream, Churro Ice Cream Sandwiches Are Real
If the disappointment of being too far away from incredible summer treats is simply unbearable, turn back now. You're about to walk through the valley of the shadow of sugary temptation. 
The Tapas Bar at Mario Batali's La Sirena, which opened in 2016 on the Plaza Level of the Maritime Hotel in New York City's Chelsea neighborhood, has a new snack that will ensure your summer diet plans are as ill-fated as Terry Gilliam's The Man Who Killed Don Quixote. La Sirena is selling churro ice cream sandwiches, and it's indisputable proof the world is a good place.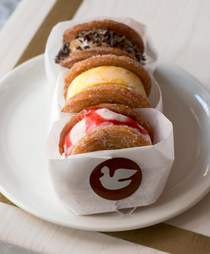 Hy Khong
Created by executive pastry chef Thea Habjanic, the twist on a summer classic comes in three flavors packed between a pair of cinnamon-sprinkled churros. These treats raise an important question. Why isn't all bread made of churros?
The sandwiches come in two standard flavors, coffee/dulce de leche with cacao nibs or mango sorbetto and vanilla gelato with sea salt. A rotating third flavor is also available.
Ordering a boatload of these is the kind of thing Fourth of July picnic heroes are made of.
h/t Guest of a Guest
Sign up here for our daily Thrillist email, and get your fix of the best in food/drink/fun.
Dustin Nelson is a News Writer with Thrillist. He holds a Guinness World Record but has never met the fingernail lady. Follow him @dlukenelson.