Cinnabon Launches Fried Chicken Biscuits & Other Frozen Breakfasts
Sausage bites, chicken sandwiches, and "ooey-gooey" rolls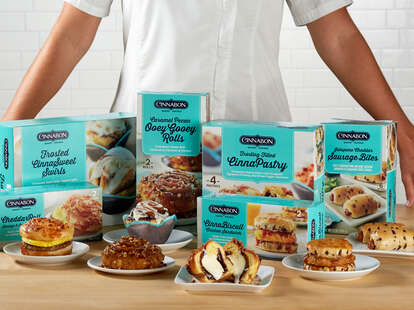 As of this moment, you can feel as compelled to start your day as you did to spend your allowance money on 10-count CinnaSweeties at the mall, because Cinnabon just released frozen breakfast items at retailers nationwide.
We've known for a long time that Cinnabon uses scents to attract its customers, so the company's debut of frozen breakfast items is a godsend for folks who have trouble getting out of bed. The company said that its six new products are now available at Walmart.
These new breakfast items put last year's mashup of cookie and Cinnabon cinnamon roll to shame, and a few of the new frozen products blend the brand's classic cinnamon dough with sausage and chicken, directly challenging the rest of America's classic frozen meats. Here's what we're looking at:
Caramel Pecan Ooey-Gooey Rolls: Cinnamon rolls covered in caramel and pecans
Frosting Filled CinnaPastry: Cinnamon pastry filled with frosting and brown sugar cinnamon
Frosted CinnaSweet Swirls: Cinnamon swirl rolls topped with frosting
CinnaBiscuit Chicken Sandwich: Dried chicken on a cinnamon chip biscuit with cinnamon sauce
Jalapeno Cheddar Sausage Bites: Spicy cheddar pork and beef sausage wrapped in cinnamon sweet dough
CheddarRoll Sausage & Egg Sandwich: Sausage and egg on a cheddar roll croissant
The products will also be available at Target and Safeway stores soon. Each box costs around $5 but contain different amounts of the product depending on size. Find more information on that here.
"At Cinnabon we are always searching for ways to satisfy guest cravings and create more ways to access the flavors our guests enjoy," said Kristen Hartman, President of Cinnabon, in a press release. "Our world famous bakeries are the heart and soul of Cinnabon but grocery products, like our frozen breakfast creations, give Cinnabon fans the chance to bring a piece of the bakery experience into their homes and provide more delicious ways to enjoy the flavors they love."
Sign up here for our daily Thrillist email and subscribe here for our YouTube channel to get your fix of the best in food/drink/fun.
Ruby Anderson is a News Writer at Thrillist. Send your tips to randerson@thrillist.com.