Cinnamon Pebbles Are Your New Cereal Obsession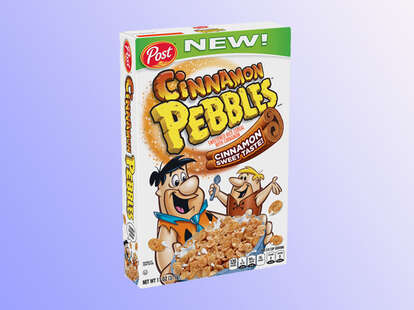 Post Cereal | Thrillist/Dustin Nelson
Post Cereal | Thrillist/Dustin Nelson
So rarely do major new cereals pop(s) up that Americans should consider themselves lucky (charms) to be in the midst of a golden (grahams) age of breakfast life. That's not really true, but there a fair number of new cereals hitting shelves. General Mills just launched two new cereals, their first new cereal in over 15 years. And there are two Girl Scout Cookies-flavored cereals coming in 2017.
Post Cereal is joining the fray with the love child of Fruity Pebbles and Cinnamon Toast Crunch. Their new rice cereal with a "cinnamon sweet taste" is Cinnamon Pebbles. The new addition to the "Pebbles" family will be hitting stores in January, according to Delish.
In the 90s, Post tried something similar with the short-lived Cinna-Crunch Pebbles. Those were likely in short supply since they were created when a "meteor" struck a cinnamon bakery in the stone age. (Also, Fred, it's a meteorite.)
Hopefully, it won't take long for Cinnamon Pebbles to be coating churros and sundaes like its fruity cousin because that's a totally acceptable use for cereal.
h/t Delish
Sign up here for our daily Thrillist email, and get your fix of the best in food/drink/fun.
Dustin Nelson is a News Writer with Thrillist. He holds a Guinness World Record but has never met the fingernail lady. He's written for Sports Illustrated, Rolling Stone, Men's Journal, The Rumpus, and other digital wonderlands. Follow him @dlukenelson.